Did you know that Santa likes to sleep before the Big Day of rushing from house to house, going down the chimney and all. He says(I talked to him the other day, he stopped by for coffee and my Gingerbread Sandwich Cookie) he needs his rest, don't we all I laughed and he frowned. To get him back on my side I decided to make my Santa special Sleeping Santa Cookies
Just so you know he also shared a secret with me, he likes to munch on cookies, I'm hoping I will win him back with these, what do you think?
I fell in love with this shape last year(Santa Cookies) and I'm still falling, you could use pizza slice cookie cutter though it is wider than taller and I like my Santa to be rather tall so I used my own Santa Cookie Template, cookie is about 4 inches tall 2.25 inch wide.
I used my favorite Sugar Cookie Recipe flavored with Almond Emulsion, together with Fresh Lemon Royal icing it is a perfect combination and I get a lot of compliments on these two flavors together.
My Favorite Sugar Cookie Recipe
3 c. all-purpose flour
1 teaspoon baking powder
2 sticks butter, unsalted, softened
1cup granulated sugar
1 large egg
1/2 t. kosher salt
1 teaspoon vanilla extract
1tbl (or 1 1/2tsp almond extract)
Sift together the flour and baking powder.
In a mixing bowl, beat the room temperature butter and sugar until light and fluffy. About 4 minutes. Scrape the bowl at least once while mixing.
Add in the egg and mix till fluffy and pale in color.
Add salt and both extracts.
Slowly add flour mixture (1 cup at a time) and stir until incorporated. Don't be afraid to use your hands a little to form a uniformed cookie dough.
Form the dough into a disc and wrap in plastic wrap.
Refrigerate for at least 1 hour. If the dough gets too hard to roll let soften a bit before rolling the dough.
note: I sometimes make this dough in the evening and place it in the fridge and I make the cookies next day.It works fine
Preheat oven to 360 degrees F.
Roll the dough between 2 pieces of parchment paper to 5/16 inch(about 7mm) thick. I use two rolling guides made of two wooden painting sticks, I got at the painter's store. I glued 2 together. Total I needed 4 stick to achieve the right thickness for sugar cookies.
Place your sticks guides on the work surface, and put the disk of dough between them, put parchment paper on the top and using a rolling pin, roll the dough out, making sure your rolling pin rolls on the top of the wooden sticks to ensure the right thickness.
You can also use Wilton Fondant 20-Inch Rolling Pin Guide Rings
Cut the cookies into shapes and place the cut cookie shapes on a parchment lined cookie sheet.
Place cookies in the fridge to harden for about 5 minutes and then put them in the oven.
Bake the cookies for approximately 8-10 minutes Rotate sheets in half time for even baking.
Remove cookies from the oven and allow to cool on the sheet for 5 minutes. Do not attempt to move the cookies at this stage, they are too soft and will break.
Slowly remove cookies from the sheet using a a wide spatula place them on the cooling rack and let cool completely.
Making Cookies
ICING: you need several colors
red(hat), white(polka dots and beard), light olive green-forest green mixed with a touch of yellow(pants), ivory(face),gray (t-shirt/rest of the body), food coloring pens for details
Hat is made using wet on wet technique, once you flood the red hat, immediately follow with white dots to achieve the design.
Outline and flood remaining areas and wait for the cookie to dry completely.
If you wish you can sprinkle some luster dust onto the beard part, use a small brush that you dipped into the dust and gently shake it off on freshly flooded beard.
Once the cookie is dry, make the green pants, let them dry and add all the details painted with food pen.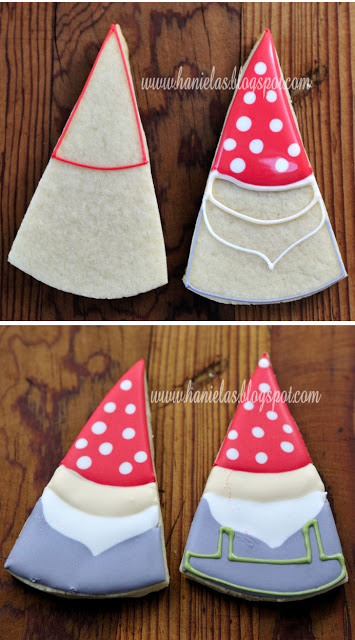 Details
I used Black Food Coloring Pen

To make the buttons I used Brown and Black Food Coloring Pen