Simple Father's Day Cookies
Today I will show you how to make super cute and simple decorated Father's Day Cookies.
updated post from 2012
HOW TO DECORATE FATHER'S DAY COOKIES
To decorate, I'm using royal icing colored in bold colors. I also made a cardstock template and a plaid template. Both will make decorating these Father's Day cookies just a bit easier.
DAD STENCIL
To make a dad stencil you need :
Cardstock or clear mylar sheet
Exacto knife
Template
You can make a dad template from cardstock, or for a more durable one, you can also use a mylar sheet. Print the template onto cardstock. Place it onto a cutting board to protect the surface underneath. Cut it out with scissors and an Exacto knife.
TIP: Cardstock templates can't be washed.
PLAID TEMPLATE
My Father's Day Cookies feature a popular plaid pattern. To pipe the plaid pattern, I utilized a handy plaid pattern. Though this is optional, I highly recommend using it. It helps with piping uniformed lines.
ROYAL ICING AND SUGAR COOKIES
As I mentioned, to decorate, I'm using royal icing. I colored my icing with bright colors using concentrated gel colors. Learn more about the tools I'm using in the Tools section at the bottom of this post.
If you don't have father's day cookie cutters, you can use basic shapes instead. Go for hearts, rounds, stars, or rectangles.
TIP: Do you have questions about royal icing? Find an answer in my Ultimate Guide To Royal Icing, Frequently Asked Questions, and more.
FLOOD COOKIES
Outline and flood the cookie with 15-second consistency royal icing. If you plan on creating a plaid pattern, don't allow icing to crust. If you are not going to pipe plaid pattern, allow icing to dry.
TIP: You can easily create this shade of blue: use sky blue icing and add a minuscule amount of black to it.
HOW TO PIPE PLAID PATTERN WITH ROYAL ICING
Immediately after you flood the cookie, place it on top of a plaid pattern template. Use a pattern template to give you a general guide when piping lines.
I'm using flood consistency gray and white icing to pipe the lines.
TIP: When piping wet-on-wet royal icing lines, it is crucial to keep the opening on the piping bag small. When using a tipless bag, cut a small opening with scissors. And, if you are using a piping tip, I recommend using a round piping tip #1.
If you'd like to create a diagonal plaid pattern, turn the cookie so the lines on the template underneath run diagonally.
TIP: To pipe straight lines, lift the piping tip above the surface, and pipe at about a 45-degree angle.
Some of the cookies I decorated with plaid design some I left blank. Both designs need to dry before we can move onto the next step.
HOW TO TRACE "DAD" WORD ONTO A COOKIE
To trace the letters onto the dry icing, I'm using a fine tip edible marker.
First, I traced the outer outline (steps 1-3), and then I traced the inner outlines (steps 1-8).
Now we can outline "Dad" with a piping consistency black royal icing. I also fitted my piping bag with a PME #1.5 piping tip. Allow the black outline to crust for 5 minutes (steps 1-4).
With 20-25 second consistency icing flood the letters. Use a scribe tool to shape the icing (steps 5-8).
TIP: To make black icing, I like to add 1 tablespoon of dark cocoa powder per 1 cup of white icing. Then I mix in concentrated black gel food color, just until icing turns dark gray. Then I cover the icing well, and I let the icing rest overnight and even longer. Resting allows color to develop and reach its full potential.
Continue with the rest of the letters. Let dry.
USING EDIBLE MARKERS TO DECORATE COOKIES
If you'd like to personalize these Father's Day Sugar Cookies, try writing a personal message on dry icing, with an edible marker (step 1-2).
HOW TO CLEAN AN EDIBLE MARKER SMUDGE
As it happens, sometimes, when I don't pay attention, I smear the edible marker line (step 1). Usually, it's an easy fix. I like to use a clean damp q-tip. To prevent icing from dissolving or become pitted, I recommend lightly dipping q-tip into Everclear, Vodka, or clear Rum. But if you are in a pinch water will work, too. It is important to remember not to use too much liquid and don't make icing wet.
Gently rub the smeared mark off, turning the q-tip, using the clean section.
AIRBRUSHING
If you feel adventurous, you can use an airbrush to transfer designs onto the cookies before you pipe "Dad" (steps 1-2). Get creative, use fishing, mustache, golf, bbq, or beer designs for inspiration.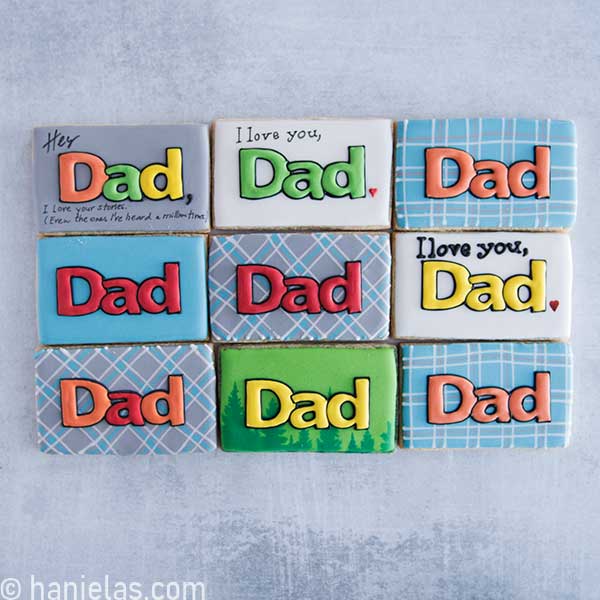 FATHER'S DAY COOKIES FROM THE PAST
The decorated cookies below are the original Father's Day Cookies I created in 2012.
I decided to keep them in this tutorial as an alternative way to decorate these cookies.
Trace the outline onto a cookie with an edible marker. Outline and flood the area around the word "Dad". Let icing crust (steps 1-3).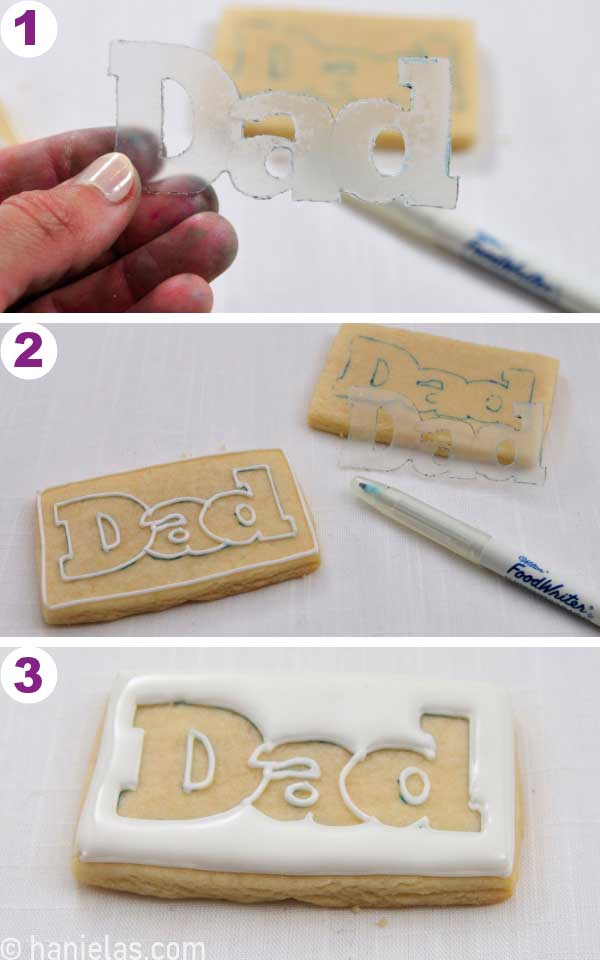 Now fill the letters with 20 to 25-second consistency icing, let crust, and then outline with piping consistency black royal icing (steps 1-2).
CAN I CREATE "DAD" AS ROYAL ICING TRANSFER?
Yes, you can.
Make sure word Dad is not too big. Keep it at least ½ ich from cookie edge.
When applying a dry transfer onto the wet icing, be sure not to use light-colored transfer (white, light blue, etc.) onto a dark background (black, dark green, etc.). Dark wet icing tends to seep into the light-colored transfer.
Learn more about Royal Icing Transfers.
MORE FATHER'S DAY DESSERT IDEAS
TO MAKE FATHER'S DAY COOKIES YOU NEED
RECIPES
TOOLS
Find all the tools in my Amazon Shop
PME 1.5 Piping Tip
Tipless Piping Bag
Food Gel Colors
Fine Tip Edible Marker
Regular Size Edible Markers
Rectangular Cookie Cutter
Rainbow Dust Fine Tip Edible Marker
Scribe Tool
This post was originally published on June 12th, 2012. On June 8th, 2021, I updated this tutorial with new step-by-step photos, written text, and a video.