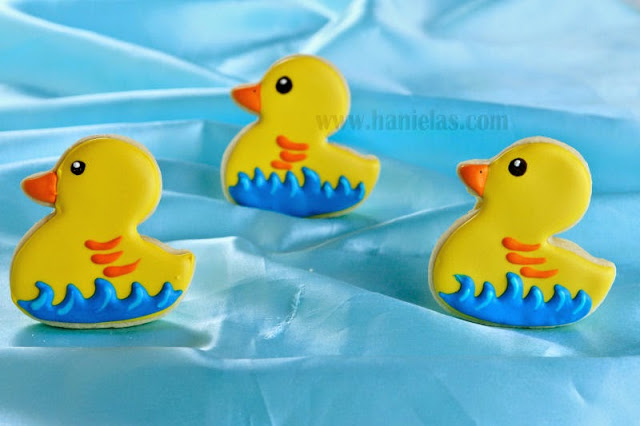 Few weeks back I was admiring Callye's
Duck Toy cookies
. Such a clever design and beautiful, beautiful execution. I only wish I was a kid again and my mom would let me play with my food…
Though I wasn't really looking for a duck cutter I scored one in a large estate sale. Most people look for furniture and big items, not me, I'm always rushing into the kitchen area, trying to find some treasure. I have a duck cutter but this one looked so cute. Like I need more cutters, right? Obviously I do, because with the duck also bought a goose and bunch of other cutters, too.
To make these cookies you need :
Duck Cutter

Lemon Yellow

Gold Color

Royal Blue Color

Orange Color
Royal Icing
Cookies(I used Sugar Cookie Recipe)
To make the "duck" yellow and orange, I mixed together yellow and gold, orange and gold for the body.
Yellow, Orange and Light blue is 15 second icing.
Darker blue and white icing is about 18-20 second icing
You can see how these are made in my video tutorial below.
You can find variety of duck cookie cutters online, this one is the closest to the shape I used.
How to Thin Royal Icing to a Desired Consistency – 15 Second Icing
Simple Duck Cookies Video Tutorial