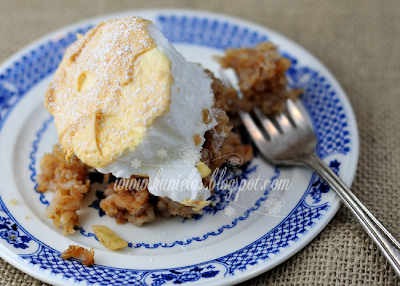 Today I prepared for you a really quick and super easy dish. I think this could easily be your kids favorite, plus I tucked in some oats and nuts, and if you'd like you could add raisins or other dry fruits, also if you use brown rice you'll get more healthy fiber into your diet.That's always a good thing.
My favorite part ? That would have to be the meringue on the top.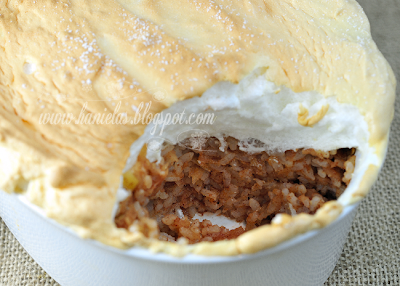 Apple Rice Casserole


2 cups cooked brown rice or white rice
2 tbl roughly chopped almonds or walnuts
2tbl quick oats or regular oats
3 medium size apples, peeled, cored and coarsely shredded
1/3 cup lemon water ( juice of 1/2 lemon and filled to 1/3 cup with water)
1 tablespoon firmly packed brown sugar, if using sour tasting apples, use more sugar
1 teaspoon vanilla extract
1 teaspoon ground cinnamon
1/8 tsp nutmeg
3 egg yolks ( optional)
For the Meringue
3egg whites
about 1/4 cup sugar
pinch of salt
Preheat oven to 350 degrees F. Lightly oil a medium size casserole or spray with a nonstick cooking spray.
In a large bowl, combine all ingredients. Mix well. Spoon into prepared pan, and smooth the top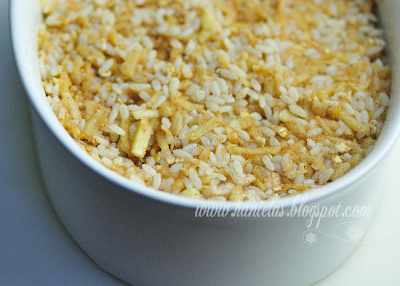 Cover with the lid or aluminum foil and bake 45 minutes.
5 Minutes before it is done make the meringue by using your hand held or stand mixer. Whip egg whites with a pinch of salt and beat until medium peaks form, gradually add sugar and beat until stiff peaks are formed.
Carefully remove casserole dish from the oven and evenly spread meringue on the top. Bake for additional 10 minutes, or until meringue turns golden color.
Serve hot or cold.