Chocolate Meringue Layer Cake with Fresh Raspberry and Mint Cream Filling
There is always time for a special treat and today is that special treat day. In this post I will show you, in detail how I prepared this dessert. As you probably know I love meringue.Whipped, cooked baked. Meringue  is one of my favorite things.
As you'll see this recipe post is  picture heavy. I wanted to show you how I made meringue layers. Because I really want you to try this cake. I really do.
Chocolate Meringue  Layer Cake with Fresh Raspberry and Mint Cream Filling
Meringue Layers (make 3 layers)
5egg whites, room temperature
3/4 cup granulated sugar
1 1/2 tbl cornstarch
1/4 cup bittersweet chocolate chips, chopped
10inch x 4 inch template
parchment paper
cookie sheet
large round pastry tip
pastry bag
Preheat oven to 275F
Onto the parchment paper, trace the template(10×4) 3 times. I used a large cookies sheet so I fit all  3 on there.
Flip the parchment and position it onto the cookie sheet. Set aside
Make sure the bowl of your mixer is grease free. Wipe it dry with white distilled vinegar if needed.
Add egg whites into the clean bowl, beat egg whites on high, until soft peaks are formed, gradually add sugar and beat until stiff yet glossy peaks are formed.
Beat in cornstarch.
Fold in chopped chocolate.
Fit the pastry bag with large round pastry tip, fill the bag with meringue.
Pipe the meringue onto the prepared parchment paper, following the rectangular patterns you prepared before.
Bake at 275F for 45 minutes. Turn off the oven and let the meringue layers in the oven until it cools down completely.
If not using the same day, store  meringue layers between layers of wax paper, in a large airtight container.
Fresh Raspberry Filling
2cups Frozen Raspberries, about 6oz
1/2cup water
1/3cup sugar
1tbl lemon juice
2 tbl corn starch dissolved in 1/4cup water
1tbl raspberry liqueur(optional)
Cook raspberries with water and sugar
until very soft and mushy.
Process mixture in a blender or food processor, strain
through a fine mesh strainer to remove seeds.
Return
mixture to the sauce pan, add lemon and dissolved corn starch, cook the
mixture on low heat until it bubbles and thickens, cook for 2 minutes.
Remove from heat and let cool in a water bath, stirring frequently to
prevent skin forming.
 Add 1tbl raspberry liqueur and stir gently until
fully combined. Cover with plastic wrap and chill for several hours. Can
be store in the fridge for several days.Use as filling for cupcakes or
cakes.
Fresh Mint Cream Filling
2tbl fresh mint leaves, washed and dried
1/4 cup granulated sugar
2tsp gelatin
1 1/2 tbl cold water
1cup heavy cream, room temperature
3/4cup sour cream or Greek yogurt, room temperature
Make  mint sugar, using mortar and peste, set aside.
In a small dish, add cold water, sprinkle gelatin on top, let bloom for 5 minutes.
Using a microwave heat bloomed geltain for 5 seconds, it should be dissolved after 5 seconds, if not heat
it a little more but be careful not to overheat gelatin. Let the
dissolved gelatin cool to room temperature, stirring frequently.
In a clean bowl, whip the heavy cream until soft peaks are formed, add dissolved gelatin,
beat and then add mint sugar, beat until stiff,
don't over beat. Gently fold in sour cream.Filling can be refrigerated.
If you don't have mint leaves, use 1/2 tsp mint extract instead.
10inch x 4 inch template
Meringue with chopped chocolate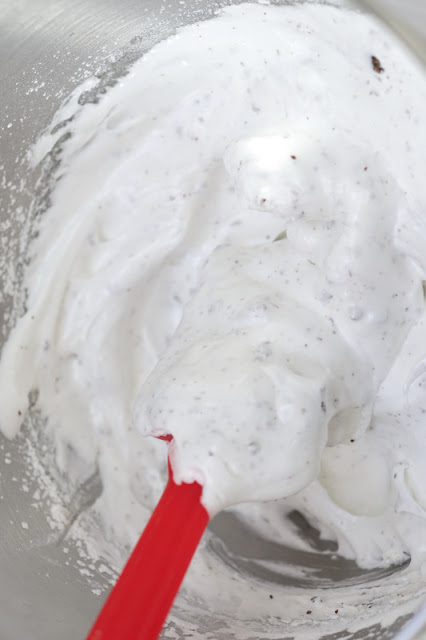 Folding chocolate into the plain meringue
Freshly piped meringue layers, using a large round tip
Baked Meringue Layers
Cooked and strained raspberry sauce
Filling meringue layers with cooled Fresh Raspberry Filling
Fresh Mint Sugar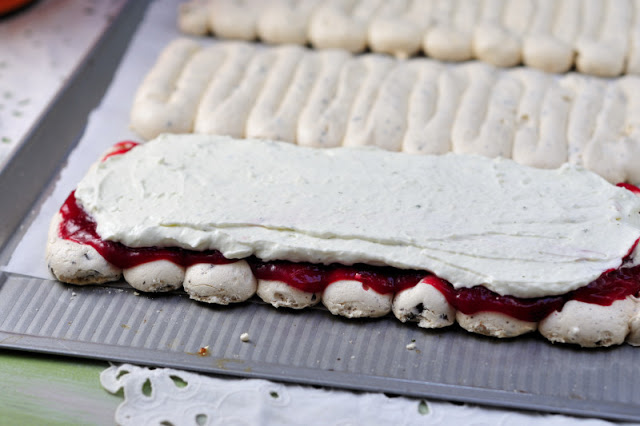 Layering Fresh Mint Cream on top of Fresh Raspberry Filling
Meringue Cake Assembly
Once you fill the cake, let it sit for 5 minutest and then enjoy. It helps to use heated knife when cutting the meringue cake.