Apple Cupcakes
an apple disguised as a cupcake to fool
stuffed with goodies that taste pretty cool
peanut butter and raisins added are a healthy treat
fill the apples and they're ready to eat
© Iris Zuares
Creative works of Iris can be also
No Bake, Healthy, Fun and Easy….Delicious Apple Cupcakes
They are super yummy and really filling.
Perfect healthy snack, and they can be also pretty and are really fun to make. Decorate them with raisins, chocolate chips, oats, cheerios, peanuts, coconut etc
My favorite? I'd have to say raisins.:-)
How to make Apple Cupcakes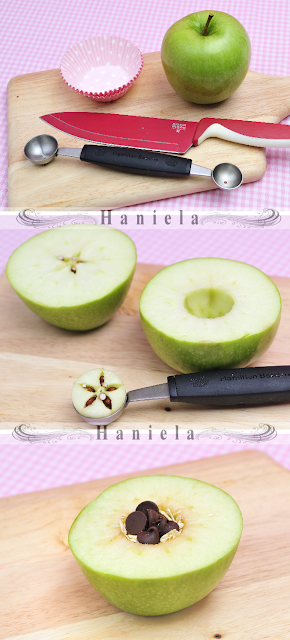 -one small apple makes two cupcakes, so get as many apples as you need.
-wash the apples and dry them
-cut them in half, scoop the core out, fill the cavity with your favorite choice of filling. Spread or pipe the peanut butter on the apple. Serve in a cupcake liner.
-I recommend using sturdier kind of liners.
-I used about 2 tbl of peanut butter on one cupcake, you can use less if your apples are smaller.
I love the melon scoop tool, it really serves as a universal tool. Perfect for apples, ice cream too.
I will be making these again, they were perfect afternoon snack, I really enjoyed them.