Mushroom Artichoke Stuffed Pasta Shells
Today I decided to share with you a really supremely delicious recipe.
Mushroom Artichoke Stuffed Pasta Shells.
I love mushrooms, I come from a family with a long family tradition of mushroom picking. Countless times we went mushroom picking.Joy when you find the mushroom could be easily compared to that of a child.
Genuine and free.
Have you ever been mushroom picking ? One can't even describe how relaxing mushroom picking is until you experience it, you are surrounded by woods, searching for an umbrella shaped fungus body; I remember one time we crept under the low trees to get to the mushrooms, and another time we came of out the woods in a different spot, several miles from where we entered, time seize to exist when you go mushroom picking.
Where I come from mushroom picking is pretty big.
My family still goes mushroom picking several times a year.
Freshly picked mushrooms are cleaned, sliced and dried, or canned for further use.
Recipe
(24 filled large pasta shells)
Filling
1tbl butter
1tsp olive oil
3garlic cloves, pressed
3/4 pound(340grams) mushrooms -chopped
2 cans of Whole Artichoke Hearts (net weight 8.5oz/240grams per can)- chopped
1 cup dry Vermouth *
salt,pepper
*if you can't use Vermouth"
– use other dry wine,
-use chicken broth or water, add a juice of of half lemon, if you don't have juice of 1/2 lemon, add wine vinegar
Bechamel Sauce
2tbl butter
2 1/2 tbl all purpose flour
2 1/4 cup milk
1cup grated Parmesan cheese
salt, pepper
1/4tsp ground nutmeg
Topping
1/2 cup shredded mozzarella cheese
Pasta
Large Pasta Shells
Water
Salt
Olive oil
PASTA
Cook Pasta according to the directions, I cooked mine in salted water for 8 minutes, I made sure pasta wasn't completely done, as it will continue cooking in the oven.
Drain the pasta, add a little bit of olive oil and toss gently, Cover to prevent drying and set aside.
FILLING
I buy mushroom at a local farm, sometimes there are bits of dirt on them, I use my mushroom brush I picked up in a local kitchen store, it works wonderfully, removing encrusted dirt prior chopping.
On medium low heat melt butter in a large skillet. Add mushroom and garlic, saute until mushrooms start to release their own juices and they begin to brown, about 10 minutes. Stir occasionally to prevent burning..
Add chopped artichokes and vermouth. Increase temperature to medium high. Cook until liquid is absorbed,keep stirring occasionally, it will take about 10 minutes.
Season with pepper and salt, set aside.
BECHAMEL SAUCE
Preheat oven to 350F
In a medium sauce pan, on medium high melt butter add flour, stir. Stirring cook flour – butter mixture for 1 minute. Cooking flour ensures you get rid of the "flour taste"
Reduce heat to medium low, gradually add milk, using the whisk to prevent any lumps.
Stirring, cook the sauce until it thickens, about 15-20 minutes. Once the sauce is thick and coat the back of the spoon, add 1 cup parmesan cheese, season with pepper, salt and ground nutmeg.
Add your cooked bechamel sauce into your mushroom artichoke mixture, stir until well combined.
Spoon the filling into your prepared, precooked pasta shells.
brush a shallow dish with olive oil, and set filled pasta shells into the dish.
Sprinkle mozzarella cheese on the top of the filled shells.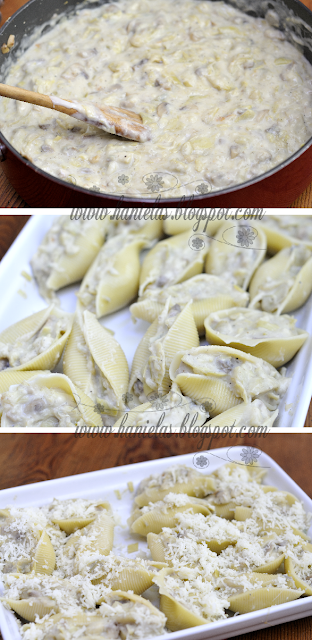 Cover with aluminum foil.
Cook in the oven for 30 minutes.
Remove foil and cook for another 10 minutes, until tops get golden.
Remove from oven.
Let cool slightly.
Sprinkle with freshly chopped parsley.
Serve.
I recommend making stuffed shells day before they are being served, they taste even better second day.
Just store them in the fridge in the airtight container and reheat in the oven or microvawe before serving.
These can be prepared ahead of time and frozen for a week or so.
Defrost, reheat and serve.