Marinated Minty Grilled Apples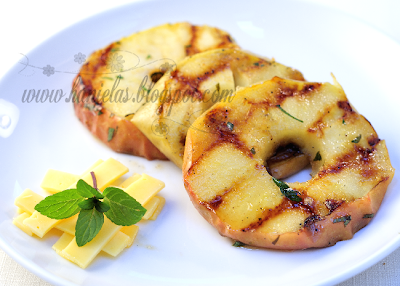 I decided to make something minty for lunch today, hoping mint will refresh my tired body from not sleeping last night.
I was up from 3am this morning, couldn't sleep, instead I spent 4 hours cleaning the house…it really needed it and I was putting it off for a while.
I have a fresh mint in the back yard, it basically took over one area and keeps growing and growing. If you walk by it you can smell it, such a nice aroma.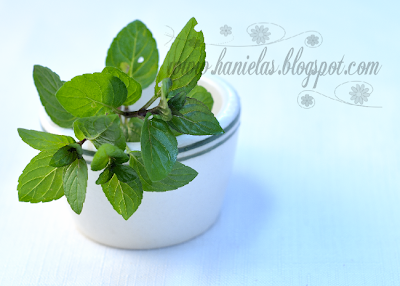 For today's lunch I made this delicious and really refreshing meal, I know it looks more like a snack, but it was just enough to fill me up and give me some energy, I also added few slices of cheese and voila..delicious treat was born
Marinated Minty Grilled Apples ( adapted from Cooking light, October 2002)
about 4 servings, one serving 3 slices

2/3 cup fresh orange juice ( I didn't have any orange juice so instead I used freshly squeezed lime juice from one lime and I added little bit of water)
1 tablespoon chopped fresh mint
2 tablespoons honey
1 teaspoon vanilla extract
1/2 teaspoon ground ginger
1/4 teaspoon black pepper ( I only used 1/8 tsp)
I also added 1/2 clove of pressed garlic ( I just love garlic so I had to add it) -optional
3 Granny Smith apples, cored and each cut crosswise into 4 (1/2-inch) slices ( I used apples on hand)
Cooking spray
Combine first 7 ingredients in a large zip-top plastic bag. Add apple slices; seal and marinate in refrigerator 1 to 2 hours, turning bag occasionally.
Prepare grill.
Remove apple from bag, reserving marinade. Place apple slices on grill rack coated with cooking spray; grill 3 minutes on each side, turning and basting frequently with reserved marinade. Arrange apple slices on a platter; drizzle with any remaining marinade.
I decided to serve grilled apples with few slices of cheese, and let me tell you what a great combo.
Flavorful ~ Beautiful ~ Delicious~Dish
I guess I could call this one…Mojito Grilled Apples…all is missing is rum
I really hope you are enjoying Apple a Day Project