Sweet Potato Almond Cupcakes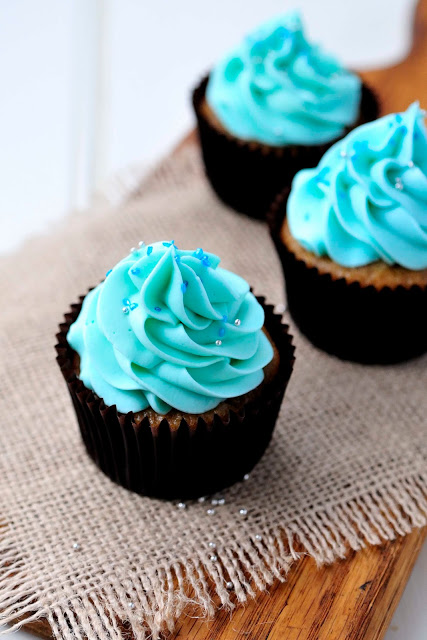 Finally I'm able to share with you a new blog post, my first post in 2012. I'm still very much under the weather with some kind of a bug; but as many of you know as adults we don't have much choice and I can't be lying in the bed forever though rest assured I'll be sure to hug my pillow the minute I finish work today.
I have a feeling this 2012 will be a good year and I'm pretty excited about it. I have so many things planned, hoping to see them come through.
I hope you'll visit often, I enjoy the company very much.:-)
Today I wanted to share with you a super yummy recipe for cupcakes, especially those allergic to eggs will like this one, there are no eggs in this recipe, instead I used apple cider vinegar to boost the fluffy texture in these little cakes. They are not too sweet, just like I like my cupcake, moist with a hint of cinnamon; sweet potato puree can be made fresh or use one from the can.
Almond flavored cream cheese is a nice comliment to the cupcake flavor and received many compliments this season.
Sweet Potato Cupcake (12cupcakes)
1cup sweet potato puree
1/4cup milk
1/3cup oil
1tsp vanilla extract
1/4 cup granulated sugar
1/2 cup brown sugar
2tsp apple cider vinegar
1/4 cup almond meal
1cup all purpose flour
1/2tsp baking powder
1/2tsp baking soda
1/4tsp salt
1 1/2tsp cinnamon
1/4tsp allspice
pinch of nutmeg(optional)
Preheat oven 350F
Line muffin pan with liners
In a medium bowl combine together flour, almond meal, baking soda, baking powder, spices and salt, stir well until evenly distributed.
In a bowl whisk together sweet potato puree, milk, apple cider vinegar,oil,sugars and vanilla.
Add wet ingredients into the dry and mix with a whisk just until combined.
Fill muffin pan cups about 2/3 full and bake for 18-20 minutes, rotating pan in halfway,until toothpick inserted into the center of a cupcake comes out clean. Let cool in a pan for 5 minutes, then remove from the pan and transfer cupcakes onto the cooling rack and cool completely before frosting.
Almond Cream Cheese Frosting
1 package of cream cheese
6tbl room temperature butter
1tsp almond extract
11/2 to 2 cups powdered sugar
2tbl heavy cream
Cream butter, add cream cheese in large chunks, not at all once, beat after addition, beat until smooth on medium high speed, lower the speed and add powdered sugar, mix on low speed and gradually increase, beat until smooth, add heavy cream and beat until absorbed, add almond extract, continue mixing for one more minute.Taste.
Frost and decorate cupcakes as desired. I used white chocolate snowflakes to decorate my cupcakes, snowflakes are really easy to make and, I will be sharing my tips and detailed tutorial later this week.