Dairy Free Chocolate Chip Cookies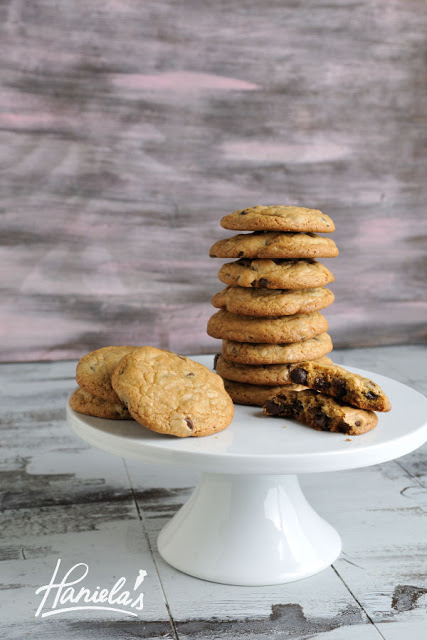 I have a friend with dairy allergy and so when I was asked to bake a few desserts for his wedding this past Summer I knew I had to make something that he could eat. I turned to the classic : Chocolate Chip Cookies. Dairy free version is super baker friendly, using basic ingredients that you probably already have on hand. They take no time to whip up and are delicious fresh and you can also freeze them for up to 2 months.
3cups all purpose flour
1tsp baking soda
1/2tsp salt
1/8tsp nutmeg
1/4cup granulated sugar
1cup brown sugar
3/4cup oil, I used vegetable oil, you can use coconut oil
1/3 cup almond milk
1 whole egg
1egg yolk
2tsp vanilla extract
2cups dark chocolate chips, I used 60% cocoa Giradelli Baking Chips
Whisk together flour, salt, baking soda and freshly zested nutmeg, set aside.
Whisk together egg yolk, egg and vanilla extract, set aside.
On medium high speed beat oil and sugars until well combined, about 4-5 minutes.
Gradually add egg yolk mixture.
Lower the speed and stir flour mixture.
Stir in chocolate chips.
Chill for an hour.
Using a scoop or a spoon, distribute cookies on the parchment lined baking sheet.
Bake in the preheated oven to 375F, for about 12-15 minutes.
Let cool on the baking sheet for couple minutes, then transfer to a cooking rack to cool completely.
Cookie can be also frozen for up to 2 months.