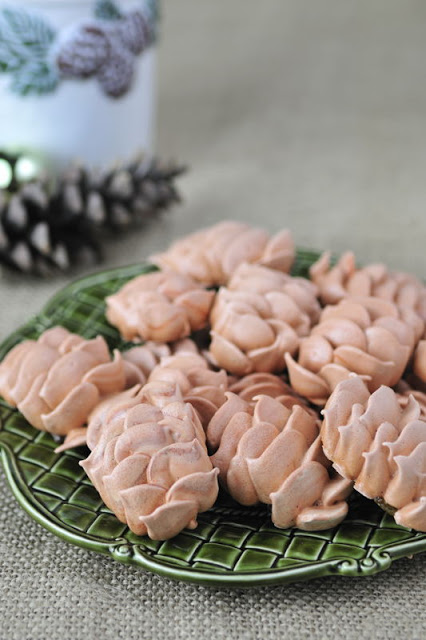 This is a one year old idea. Last year while making
Christmas Poinsettia Meringues
I tried making pine cones and it seemed like it could actually work. I just never got around to really try. I'm sure it happens to you too. Today one year later, here they are pretty pine cone meringues. They turned out cute, don't you think? Happy Baking.
Pine Cone Meringues (about 25 medium size pine cone meringues)

4 large egg whites
3/4 cup sugar
1 tsp cream of tartar(if don't have any, just use a pinch of salt instead)
2tsp chocolate extract
Brown gel food coloring
cut up parchment squares
Meringue
In a heat proof bowl whisk together : egg whites,cream of tartar, sugar. Best if use tempered glass or your stainless steel mixer
bowl. Set the bowl over the pan with simmering water. Whisking
constantly, until sugar dissolves and mixture is hot to the touch, about
5 minutes or so.
Transfer the
bowl to your electric mixers, using wire attachment, beat the mixture
gradually from low to high, until stiff peaks are formed.Don't over mix or meringue will be grainy. Add the flavoring and mix for a minute or so to incorporate
extract, add food color and mix just until combined.
Preheat oven to 180-200 F
Piping Pine Cones Meringue
Fit a piping bag with a large petal metal piping tip.
Fill the bag with freshly whipped brown meringue.
Pipe a dot of meringue onto the flower nail then put a parchment square on top. Dot of meringue will ensure that parchment doesn't move anywhere while you are piping the meringue onto it.

Pipe a "snail" onto the parchment, with a narrow opening on the metal tip facing up.
Then continue piping with the narrow opening facing up, start piping scales, onto the snail.
Continue along the "snail".
Transfer pine cone meringue onto the baking sheet.
Continue with remaining meringue.
Bake for 2 hours, then leave in the oven until oven cools down completely.

Pipe a "snail"
Piping scales onto the "snail"with narrow opening facing up
First pine cone scale
More Pretty Meringues:
Christmas Poinsettia Meringues
Santa Hats Meringues
Christmas Lights Meringues by Diary of a Mad Hausfrau
Christmas Tree Meringues by Cake & Allie
Pretty Meringue Snowflakes by Babble
Candy Cane Surprise Meringues by Not Your Momma's Cookie