Gum Paste Sea Shells Tutorial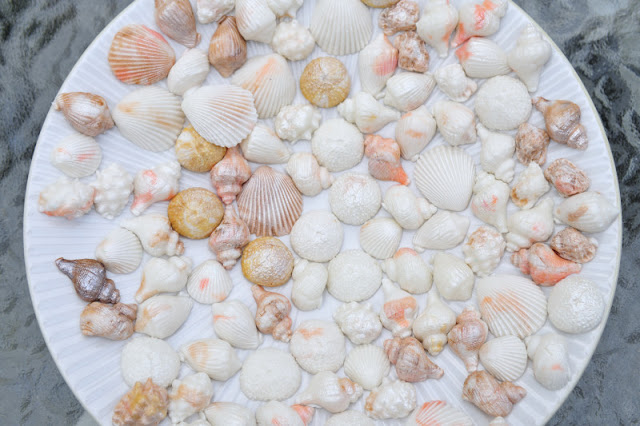 Few weeks ago I made a Sea Shell Cake for a beautiful couple Tiffany&Brian, for their post Wedding Party of 150+ people. It was held outdoors in the middle of August. Cake was set to be displayed outdoors as well. Surely you can imagine how worried I was that it is going to melt in the heat, being it August and all. Cake was filled and frosted in
Swiss buttercrem.
I was also hired to be a party photographer, which was great as I was able to keep an eye on the cake while taking pictures. To be precise I was watching it(cake) like a hawk.
Swiss Buttercream held up so well. I was impressed! I tweaked the recipe a bit and it worked out really well. Couple and all the guests complimented the cake and some of them even thought those are real sea shells.
To decorate the cake I used lots of small gumpaste shells I made few weeks in advance. They were also used to decorate the table.
Gum Paste Sea Shells
you need:
Gum Paste -recipe
Pink, Orange, Brown gel food coloring
Crisco
Wilton Pearl Color Mist (I bought mine at Michael's)
Sea Shell Mold from A&H Cake Design
Color a small piece of gum paste with pink and orange to achieve a coral like color.
Color small piece of gum paste with light brown and dark brown shade.
This is a fun part, simple marble gum paste using white with some coral, or white with brown. Be creative and try not over think it. Don't over knead. Specks of color are good.
Using a silicone mold fill the cavity with marbled gum paste, gently press gum paste in, then unmold the shells and let them dry. If needed apply a dot of crisco to silicone mold for easier unmolding. These molds are are real treat to work with. They are easy to use and give wonderful results.
Once shells are completely dry. Lightly spray them with Wilton Pearl
Color Mist. Follow directions on the spray bottle to prevent over
spraying. If needed protest surrounding area with a cloth. Let dry
completely before handling.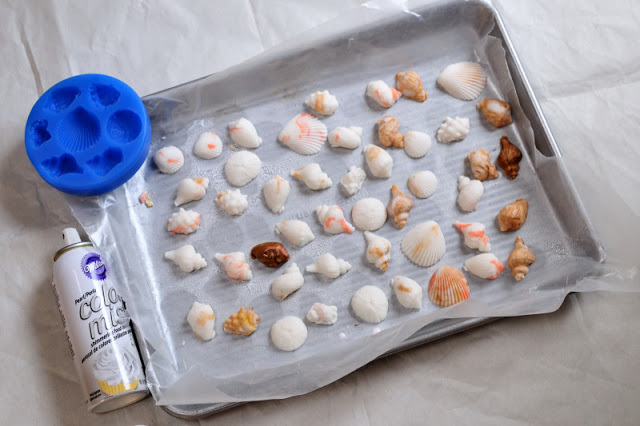 Finished Cake