Halloween Ghosts Gingerbread House
Celebrate Halloween in style with my spooky Ghosts Gingerbread House. This design is really fun and simple to re-create. I'll show you how I made Isomalt sugar glass windows, adorable peeking ghosts cookies and black royal icing roses. Let's get started.
JUMP TO TOOLS |PIN IT for later
HALLOWEEN GHOSTS GINGERBREAD HOUSE
To make this Halloween Gingerbread House I used Gingerbread Cookie Dough for Centerpieces and Houses. I hand cut house panels using templates (see the tools section at the bottom). To decorate I used clear Isomalt and royal icing.
Updated post from 2013.
ISOMALT WINDOWS
To make windows I used clear isomalt nibs. Pre-treated isomalt is super easy to use. You can melt it in the microwave. Follow directions on the packaging.
Place isomalt nibs into silicone or a tempered glass dish.
Melt in 10-15 second increments in the microwave.
Mixture will bubble. Wait few moments for the bubbles to subside.
If you see large air bubbles in the melted isomalt use a tooth pick and gently stir to pop the air bubbles.
Place a cookie on a parchment paper.
Pour isomalt into the window cavities. Use a toothpick to shape isomalt while fluid. Mixture is sticky.
Allow isomalt fully set.
Then peel off the parchment.
Isomalt may appear cloudy. This is normal. If you desire clear window panes gently heat the sugar glass with a torch.
To create a cracked or broken windows effect use a knife and a small hammer or meat tenderizer (that's what I used). Be gentle, it really doesn't take that much to break the isomalt.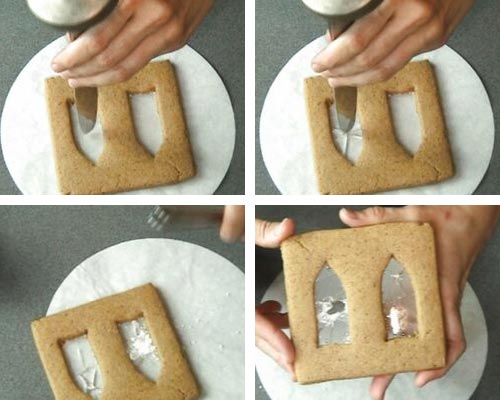 HOUSE PANELS
Before you start decorating let the cookies cool completely.
ROYAL ICING COLORS AND CONSISTENCIES :
Gray, Black – 15 second consistency – house panels, hole
White, Red – 20 second consistency – skeleton hand, blood drops
DECORATING STEPS :
Start by dividing each house panel into sections. Flood every other section with gray royal icing (20sec). Let these crust and then fill in the sections between. Use a needle tool to distribute and shape icing while it's wet. Let icing dry.
Black section represents a hole in the house panel. Flood it with black royal icing (15sec) and immediately dust black icing with black sanding sugar.
Then with white icing (20sec) pipe white skeleton hand peeking through the black hole. Pipe blood drops with red icing (20sec).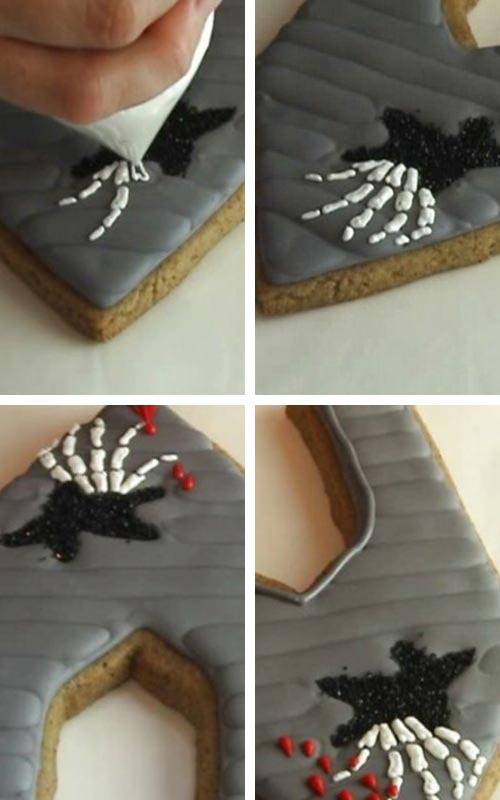 Continue decorating all house panels with gray royal icing (20sec). Let dry and then outline the windows.
SPIDERWEB AND SPIDER
ROYAL ICING COLORS AND CONSISTENCIES :
White, Black, Red – 25 second consistency
DECORATING STEPS :
Pipe spiderweb with white royal icing (20sec).
Then create a spider. To make a spider I first made spider's body as Royal Icing Transfer. As a matter of fact I used the same spider royal icing transfer to make these Halloween Spider Cookies .
Allow gray layer of icing dry then attach spider body with a little bit of royal icing. Pipe the legs with black royal icing.
Pipe peeking red eyes onto the black section.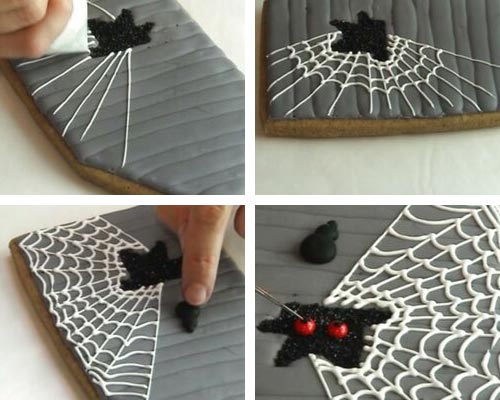 GHOST COOKIES
To make ghost cookies I used a small bell cutter. I trimmed the bottom to make it smooth. Ice each ghost with white icing (20sec). Immediately pipe black eye(15sec) into wet white icing. Let the icing dry.
DOORS
Flood door cookie with gray icing (20sec). Let it dry. Then with white royal icing (20sec) pipe the bone pattern around. Attach a black pearl for the door knob and pipe red blood drops.
BLACK ROYAL ICING ROSES
Detailed Tutorial on how to make Royal Icing Roses can be also find in my DIY Royal Icing Succulents.
Fit a piping bag with a Petal Piping Tip #101.
Then fill a piping bag with stiff black royal icing.
Attach a small wax paper square onto a flower nail.
When making roses be sure to have the narrow part of the piping tip facing up.
Start piping in the center. Turn the flower nail as you pipe.
Let roses dry overnight.
Then you can remove wax paper and use roses as desired.
HALLOWEEN GHOSTS GINGERBREAD HOUSE ASSEMBLY
To glue house panels together use stiff royal icing. Glue front and side panels and then attach a back panel. Let the base of the house dry for 4-5 hours before adding the roof panels. Support roof panels with small bottles or skewers. If you are not sure how to do that you can check out my Star Wars Gingerbread House.
ROOF
To decorate the roof I used stiff gray royal icing and a Large Leaf Piping Tip #352.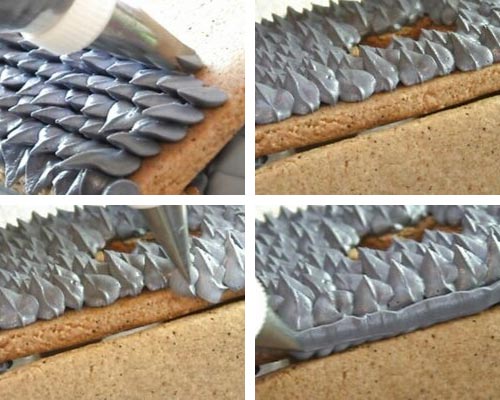 CHIMNEY
Ice chimney panels with gray royal icing (20sec) Let it dry. Then you can attach these onto the house as soon as you finish piping the roof with a leaf tip. To decorate the chimney pipe green wines and leaves and attach black royal icing roses.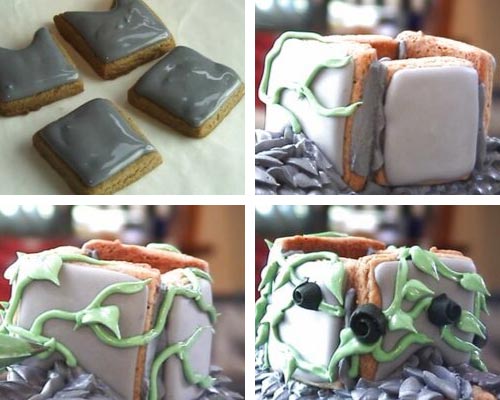 GREEN VINES
Finish this ghost haunted homemade Halloween Gingerbread House with green vines piped on the walls and chimney. Attach black roses onto the green vines. And let icing dry.
Use stiff royal icing to glue small ghost cookies. Support them in place with small bottles or skewers. Let dry overnight.
Don't forget to glue couple of ghosts in the hole in the roof.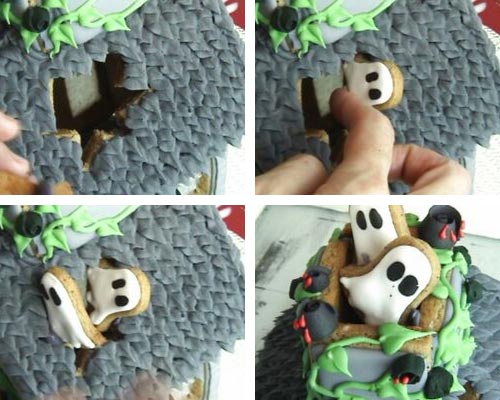 I love how cute these peeking ghosts look. Don't you?
Decorate sides, front, back of the gingerbread house and the chimney with black roses.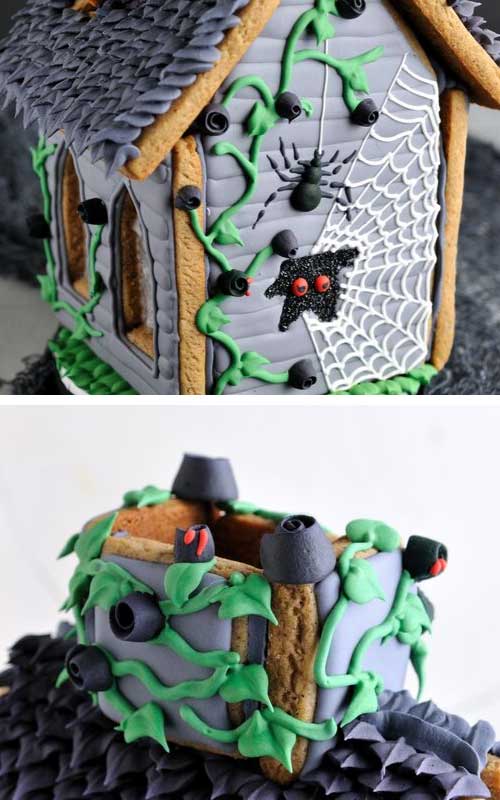 TO MAKE HALLOWEEN GHOSTS GINGERBREAD HOUSE YOU NEED
RECIPES
TOOLS
Pen Blade – works great for cutting out cookie dough when using templates
House Templates – you can use same template I use for Harry Potter House. House size is the same. Use the door template to make the window cut outs. Template(Front/back panel, chimney), Template (roof, side panels)
Small Ghost Cookie Cutter – I used a small Bell Cutter and trimmed the bottom with a knife.
Food Colors – black, red, green
Piping Tips : Leaf Piping Tip #352, Petal Tip#101 – to make black roses
Wax paper Squares, Flower Nail
RELATED TUTORIALS
MORE FUN HALLOWEEN TREATS :
PIN IT for later
This post was originally publish on October 19th, 2013. On September 23rd, 2019 I updated this post with new step by step photos, written text and a video.
This post containsThis post contains Amazon affiliate links that earn me a small commission, at no cost to you. I only recommend products that I use and love. Learn more about my affiliate policy here.