I'm a chocoholic…especially when it comes to good quality truffles filled with hazelnut chocolate filling with a piece of hazelnut in the middle, not sure how heaven tastes but it has to be something like this..the way it melts in your mouth, the smoothness of chocolate. Hm hm.
I hope this wasn't too much information…are you looking for a piece of chocolate now?
When you plan to coat, dip, mold your confections in chocolate you have to use tempered chocolate.First is seems so complicated,there are lots of rules about temperature..and how to stir it how not to stir it..etc. I know it seems like a lot of work.
Few years ago I was watching show with famous chocolatier
Jacque Torres
, he was making chocolate molds and it was fascinating to watch him.I remember my first attempt to make a hollow Easter Egg…it went horribly wrong.
Here is a very nice
video
that explains how chocolate is made.
Okay, back to tempering.Tempering is a process that sets cacao butter at its most stable point which results in hard and shiny chocolate. In 2008 I finally bought a tool that I should have bought a long time ago : Chocolate Thermometer. It is different than your traditional candy thermometer, it is more precise.
After I made my peppermint patties only after a few days some of the patties developed white spots on the chocolate.I researched and found out about 2 type of chocolate bloom.
FAT BLOOM -the white layer is the result of chocolate loosing its gloss and it is called fat bloom. Fat bloom is caused by recrystallization of the fats and/or a migration of a filling fat to the chocolate layer, and apparently storing the chocolate at constant temperature will delay fatblom.
SUGAR BLOOM -what a sweet name, how good that sounds, right? Well in real, it is not so good for chocolate. Exposing chocolate to too much moisture, like storing it in the refrigerator will cause sugar bloom, moisture draws the sugar to the surface of the chocolate where it dissolves, what we can see with our eyes are white streaks or dots and grainy texture. This is exactly what happened to my mint patties, white spots and grainy texture and yes I stored them in the fridge. Chocolate should be stored in cool, dry place… but let's face it why would I even want to find a storage for chocolate..when I can eat it and it will not get a change to get into the BLOOM.
Chocolate Tempering
good quality chocolate,/ I used 72% cocoa/ /separate the chocolate into 2/3 for double boiler melting, and reserve 1/3 for later/
tempered glass bowl
chocolate thermometer
double boiler
1.It is always good to start with small pieces when tempering chocolate, they melt easier than bigger chunks, so chop your chocolate. Place about 2/3 of your chopped chocolate into to the bowl and set the bowl over pot with simmering water/water must not touch the bowl with the chocolate, what melts the chocolate is the steam/, or you can melt chocolate in double boiler, melt it slowly to 110-120F/43-48.8C/ Do not go over 120F.
2.Remove bowl with chocolate from the heat, cool chocolate to 80F /27C/, you can speed this process by adding small pieces of 1/3 of reserved/tempered/ chocolate into the melted chocolate. Take care to stir slowly the chocolate until all the chocolate melts. Cooling process make take a while.
3.Once the chocolate has reached 80F, you can now reheat it again to 88-90F/31-32C-dark chocolate/ 86-87F/30-30.5C- white chocolate/ over the barely simmering water or in the double boiler, I do this in 10 seconds intervals, as chocolate heats up fairly quickly.Once the chocolate has reached the desired temperature it is now tempered.Don't go over 91F.
Tempered chocolate when set should be glossy and hard.
For temperature conversions I used this site.
Tip:
When coating, molding or dipping strawberries, I recommend that temperature of your molds, truffles, fruit, candies is as close to the temperature of chocolate as possible. Too contrasting temperatures will result in a dull chocolate finish.
Chocolate and water are the biggest enemies, even a little tiny drop of water will ruin your chocolate.


Here is another example where I had to temper chocolate.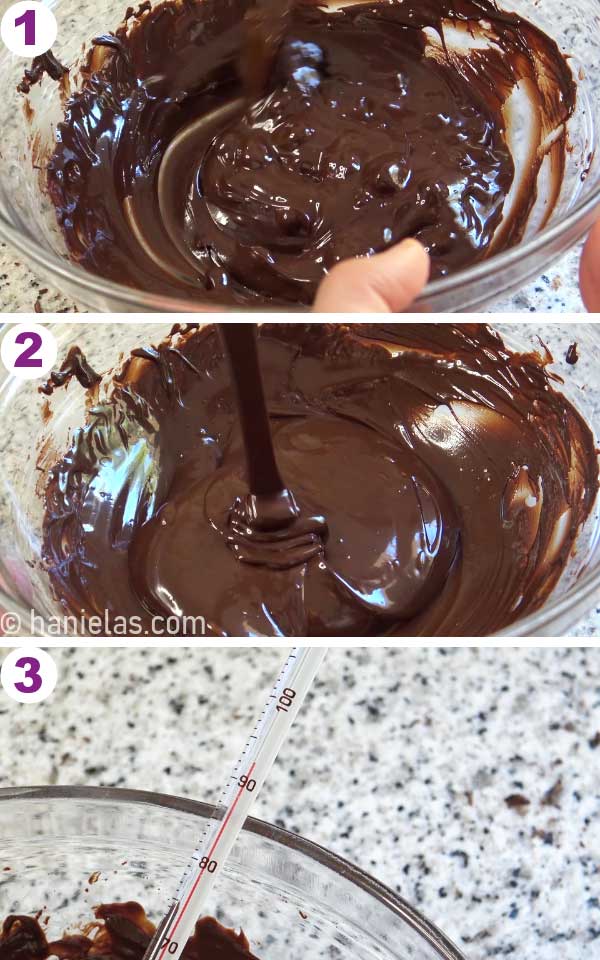 Marshmallow sandwich hearts. Chocolate hearts are made of tempered chocolate.
Chocolate Facts
History of Chocolate
Making Chocolate
Chocolate and Health