Candy Corn Cupcake Cookies
Today I'm going to show you how to make adorable Candy Corn Cupcake Cookies. These simple and super cute Halloween decorated cookies are perfect for beginner decorators. Learn how to make them with my step by step cookie decorating tutorial.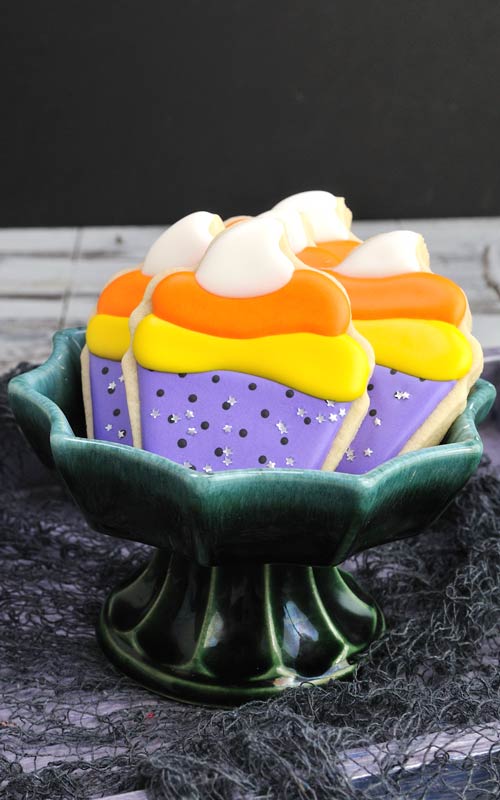 JUMP TO RECIPES AND TOOLS | PIN IT for later
HOW TO DECORATE CANDY CORN CUPCAKE COOKIES
To make these simple Candy Corn Cupcake Cookies I used my delicious Cut-Out Sugar Cookies and Fresh Lemon Royal Icing . If you are new to cookie decorating be sure to check out my Tips and Tricks on baking Cut-Out Cookies. And also my Ultimate Guide to Royal Icing Consistency.
CUPCAKE COOKIE CUTTER
There are several cupcake cookie cutters on the market. This design is adaptable to any of the cupcake shapes.
ROYAL ICING COLORS AND CONSISTENCIES :
Purple, Yellow, White, Orange, Black – 15 second consistency
DECORATING STEPS :
Outline and flood bottom of the cupcake cookie with purple royal icing (15sec). Use a needle to distribute the icing evenly. Immediately, while purple icing is wet use black royal icing and pipe a polka dot pattern into the purple icing. Start at the very top. Pipe the 1st line across the top and continue your way down.
While icing is wet sprinkle Silver Star Sprinkles on purple icing. Let icing crust well before adding candy corn layer.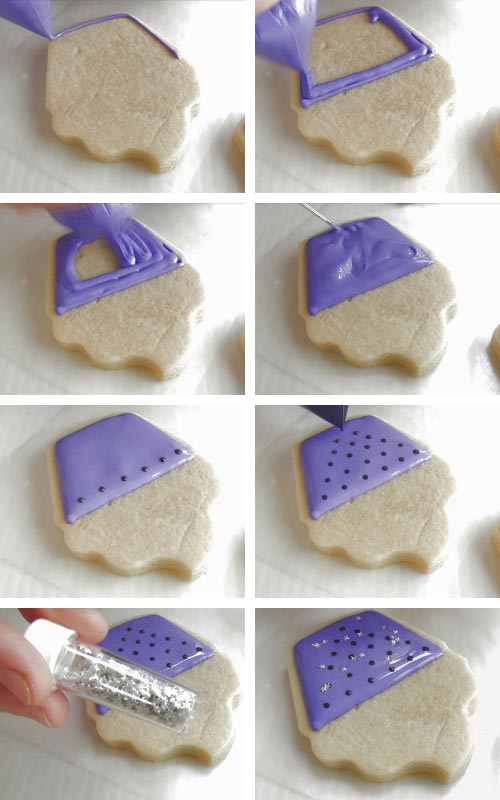 CANDY CORN LAYER
With yellow icing (15 sec) pipe the 1st layer of cupcake swirl. It's okay to slightly overlap the purple layer. Use a needle tool distribute and shape the icing while wet. Let crust.
After, pipe a middle layer with orange icing (15sec), let crust. And lastly pipe white layer (15sec). Let Dry. And that's it.
That's how you can make super simple and cute candy corn cookies or Halloween. And if you still need a little help figuring out how to decorate these cookies be sure to watch my step by step video tutorial, too.
TO MAKE SIMPLE CANDY CORN CUPCAKE COOKIES YOU NEED
MORE CUTE HALLOWEEN THEMED TREATS :
PIN IT for later
I updated this post with new step by step photos,written text and a video.
This post containsThis post contains Amazon affiliate links that earn me a small commission, at no cost to you. I only recommend products that I use and love. Learn more about my affiliate policy here.