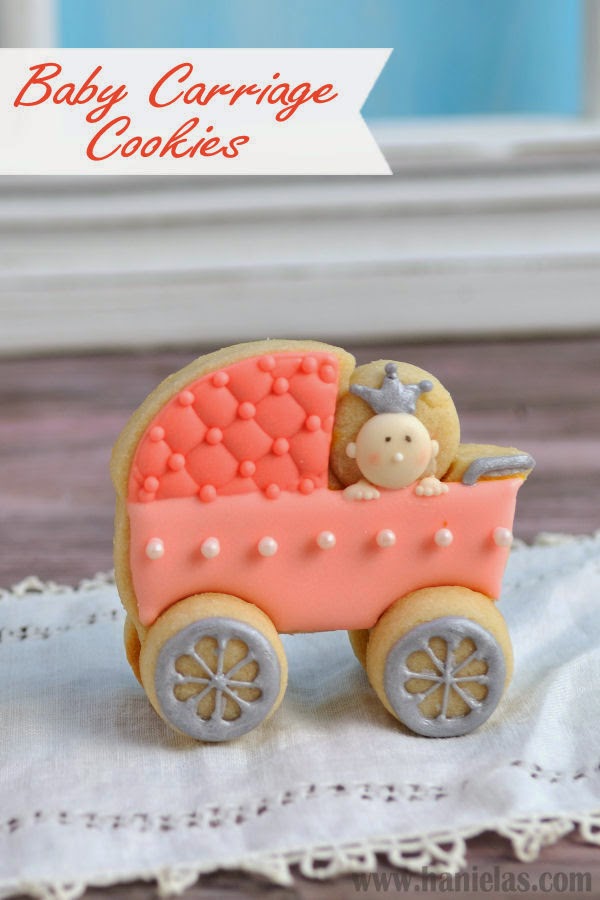 Welcome to a Royal Baby Shower

Today we are celebrating the birth of 2 little precious baby girls. Penelope and Liv. Born on the same day. Born to 2 moms with a great passion for cookie decorating.
I've been admiring cookie artistry of Callye and Georganne for a long time. I first met with Callye(Sugarbelle) on Flickr, I think 7 or 6 years ago. Then it was time to expand and I started my blog. One of the first things I did I held a cookie decorating contest and guess who entered? Georganne(LilaLoa). That's basically how we met.
Callye and Georganne , both just had a baby girl. To celebrate their new bundles of joy, together with my blogging friends we decided to surprise them with a Royal Baby Shower.

To make 3D Baby Carriage Cookie You need:
Baby Carriage Cookie Cutter
Pink Pearls by Wilton
Plastic Tweezers
Silver Luster Dust
Edible Markers by Americolors or a pin
Sugar Cookies
Royal Icing Recipe
15 Second Icing: 2 shades of peach, gray
Outline :gray
How To Thin Royal Icing
Professional Needle Tool or toothpick
Americolor Gel Food Colorings
Learn how to make these cute 3D Baby Carriage Cookies in my video tutorial

Sit back and enjoy the beautiful cookie artistry of my friends.
Link to each project can be found below the banner.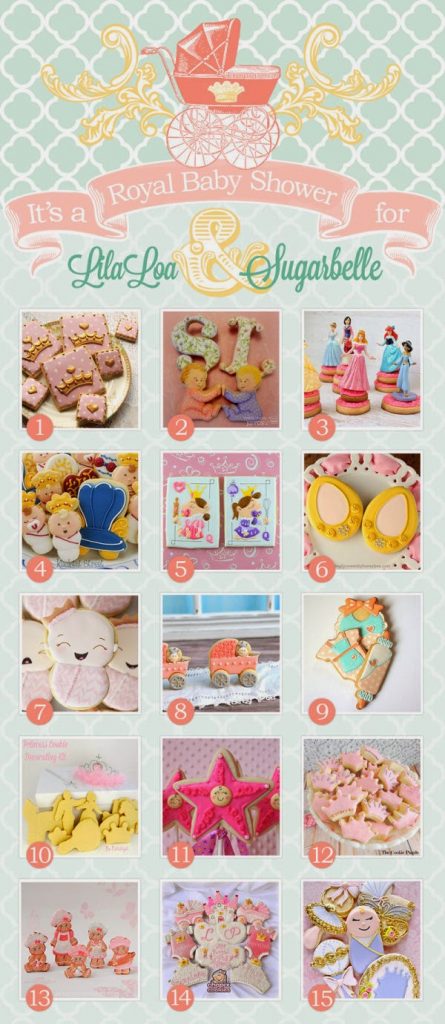 1. Sweet Ambs
2. Jill FCS
3. The Decorated Cookie
4. Klickitat Street
5. Semi Sweet
6. Simply Sweets by Honey Bee
7. Make Me Cake Me
8. Haniela's
9. Montreal Confections
10. The Partiologist
11. Munchkin Munchies
12. The Cookie Puzzle
13. De-Koekenbakkers
14. Chapix Cookies
15.Ali Bee's Bakeshop

Special Thanks to Michelle (Make Me Cake Me) for inviting me to come along
and also to Mike (Semi Sweet) for making the fabulous Royal Banner for this project.