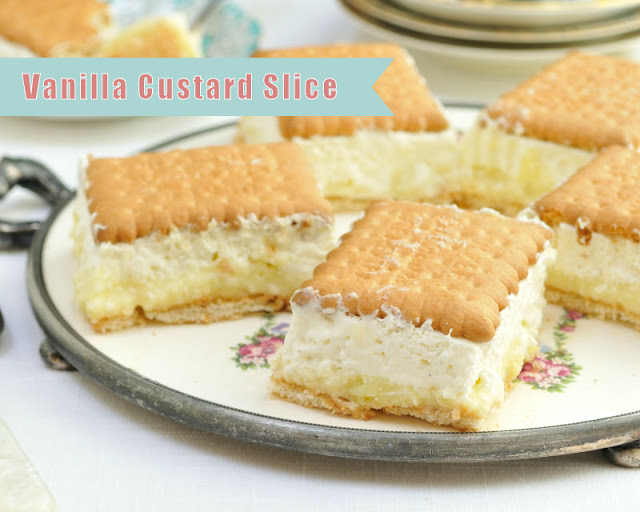 Make it today, enjoy it tomorrow.
I've always had a soft spot for all things pudding, heavy cream, tea biscuits. Together with ice cream (ooh I love ice cream) these are in fact my favorite dessert indulgences, along with few others. What can I do I have a sweet tooth.
Today I wanted to show you how to make this super easy dessert that your family will love and your kids can make it, too. It is that easy.
Bellow you'll find the list of ingredients with the instructions and also a
video tutorial
where you can see me in action, making this delicious dessert.
Vanilla Custard Slice(12 servings)
9x9inch baking dish
24 Oblong Vanilla Biscuits(Petit Beurre)
2 cups(500ml) milk
1/4cup + 1tbl (45grams) corn starch
1/2cup(100grams) granulated sugar
2egg yolks
2egg whites(optional)
1tsp vanilla bean paste
1 stick(113grams) room temperature butter
2cups(500ml) room temperature heavy cream
1tbl water
1tsp unglavored gelatin
1/4cup(50grams) powdered sugar
1tsp vanilla bean paste
Line 9×9 baking dish with wax paper.

Layer biscuits on the bottom, in one layer.

Pour half of the milk into a sauce pan.

Mix remaining milk with corn starch, sugar, egg yolk. Whisk well until combined.

Pour egg yolk mixture into the sauce pan and stir it to combine with remaining milk.

OPTIONAL: make the meringue, beat egg whites with a pinch of salt until stiff peaks are formed, set aside.

Cook milk mixture, stirring, until it thickens and comes to boil, boil for one minute.

Turn of the heat and into the hot "custard pudding" fold in the meringue(if not using egg whites omit this step and continue with following step.)

Fold in vanilla paste, gradually add room temperature butter, fold the mixture few times to incorporate butter.

Cool the custard to room temperature : fill large pot with cold water submerge sauce pan with custard into the cold water, stir occasionally until mixture cools down to room temperature.

Spread the custard onto the biscuits in one even layer.

Prepare Whipped Heavy Cream: in a small cup let the 1tsp gelatin bloom in 1tbl water, for 5 minutes.

One gelatin has bloom, microwave it on high for 3-5 second until melted. Let dissolved gelatin come to room temperature.

Into the clean bowl pour room temperature heavy cream, beat until soft peaks are formed, gradually add dissolved gelatin, beat on high until combined.

Add powdered sugar and vanilla bean paste.

Spread whipped cream on the custard layer, smooth it out.

Layer with biscuits.

Cover with plastic wrap.

Refrigerate overnight or for at least 6 hours.

Cut slices in between the biscuits, serve. Store in the fridge, covered.
Video Tutorial