Christmas is time to sit back, eat cookies and watch your favorite movies. I prefer childhood favorites at this time of the year, fairy tales, happy endings and lots of laughter.
One of my old time favorites is a Russian Folk Tale turned Fairy Tale Movie-
Jack Frost(Morozko)
. This story and one his center characters, humble Nastenka has inspired me to make this cookie.
Making of a Cookie
Using a small heart shaped cookie cutter build a shape like you see below.
2. Bake the Sugar Cookies -recipe
3. Outline and flood, add little red dots as you see in the picture. Cookie Tutorials
4. Apply sanding sugar
5. Pipe white icing around the face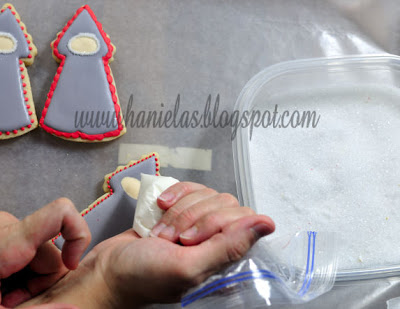 6. Dip cookie into the sanding sugar, shake the container gently and carefully lift the cookie from the sugar and place it onto the clean work surface, face up.

7. Repeat sanding sugar application with remaining cookies
8. Add details to the face, using a Food Coloring Pen and a Petal Dust(Tangerine)
for cheeks.

9. Use little brush to apply petal dust to the face.
10. Shake off the petal dust excess.
11. If desired pipe extra details on the body using white and red icing.