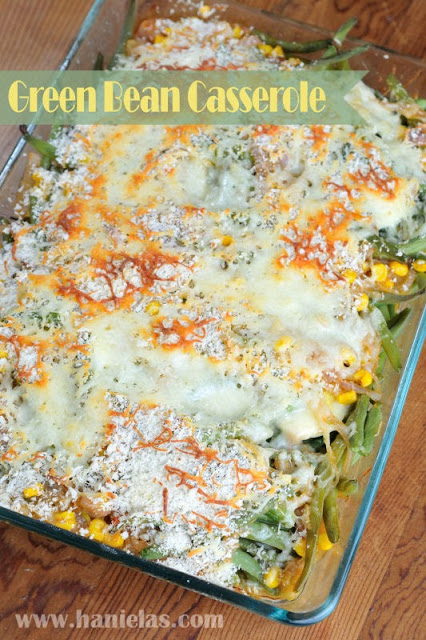 We've been picking lots of beans lately, not as many as previous years as we planted less this year but still enough for me to scratch my head as of what to do with them all. I'm not freezing any beans this year. I just don't like them frozen, they loose way too much texture in the process.
I had lots of beans and I wanted to use them all at once. To make the casserole I used homemade chicken stock (recipe coming later this week as well) some corn for the color, hardboiled eggs(I love hardboiled eggs), shallots and some cheese on the top. It is a perfect summer meal. Try it with a piece of bread of breadsticks.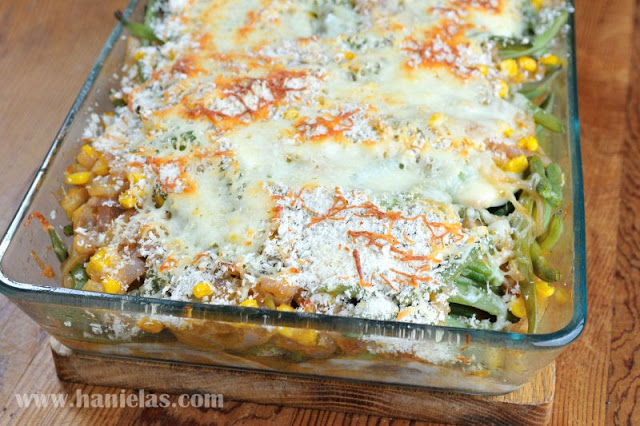 Green Bean Casserole
2 to 3 pounds string beans, washed ends trimmed
10 large shallots, sliced into rings
2garlic cloves, diced
1/4 cup all purpose flour
1tsp paprika
1/2tsp freshly ground pepper
1tsp kosher salt
2 + 1/2 cups chicken stock
1/4 cup cooking white cooking wine
1can whole corn, drained
1tbl butter
olive oil
6eggs, hardboiled, peeled and sliced with the egg slicer
1cup parmesan cheese or Italian Mix
1cup panko breadcrumbs
6-8 ham rounds, I used turkey ham
more salt and pepper to season
Preheat oven to 375F.

Butter the large 9×13 baking dish, set aside.

Season beans with 1/4tsp salt, drizzle with olive oil. Steam the beans until knife tender, immediately immerse beans in icy cold water to stop the cooking and preserve the green color. Let cool, then drain over sink. I love using my kitchen aid silicone colander for this.

In a large skillet heat 2tbl olive oil, add sliced shallots, cook on low until golden and caramelized. Throw in diced garlic and cook for 2 more minutes.

Remove shallots from the heat, sprinkle with flour and stir well, add paprika and stir again, slowly start adding chicken stock, in 3 additions, stirring well after each addition. Add cooking wine. Season with salt, pepper, taste. Cook on low. Mixture will thicken. Add corn, and cook for another minute or two. If mixture appears too thick, add additional 1/2 cup chicken stock. Taste and season with pepper and salt as desired.

Layer bottom of the baking dish with ham, layer beans with hard boiled egg slices and with onion mixture, finishing with onion mixture. Sprinkle with Panko breadcrumbs and Parmesan cheese.

Bake for 45 minutes, uncovered, until top is golden brown.

Let cool for 20 minutes and enjoy. This dish can be made day ahead and reheated.