Kellogg's® Rice Krispies Treats® Strawberry Yogurt Trifle
While I have been compensated for this Rice Krispies Treats Afternoon Pick Me up Treat by #CollectiveBias, and its advertiser, All opinions are mine alone. #KreateMyHappy
Are you looking for  a fun and easy afternoon snack idea? Something that takes  only minutes to make yet looks pretty enough to be served at a party? Try my scrumptious mood booster : Rice Krispies Treats Strawberry Yogurt Trifle.
I've always loved layered desserts, bars and I think anything  layered is so much fun to eat. But you know they often take so long to make. I consider myself pretty spoiled when it comes to desserts.  I grew up on French pastries, and custard fillings that often take hours to make, even days. I don't always have that kind of time on my hands. I love them dearly but there are days when you just need a little pick me up treat.
I wanted to make something that not only looks pretty,  semi sophisticated but is really easy to make and doesn't take a whole day to put together. I spotted familiar Rice Krispies Treats blue box in my pantry and it got me thinking, instead of just eating the  bars like they are what if I mixed it  up a little.
I made delicious Rice Krispies Treats Strawberry Yogurt Trifle. Be sure to use a clear glass to show off the colors and layers full of fun textures and flavors. Inside you'll find  soft and chewy Rice Krispies Treats , sweet and fluffy  marshmallows and yogurt, refreshing  juicy strawberry chunks and crunchy chocolate pieces. Now are you with me? Let's make this trifle.
 I got Rice Krispies Treats at my local Target store, they were hiding in the Value – Pack Snacks section, on the bottom shelf. It was on sale and so I got 2 boxes and I also picked up rest of the ingredients on my way out.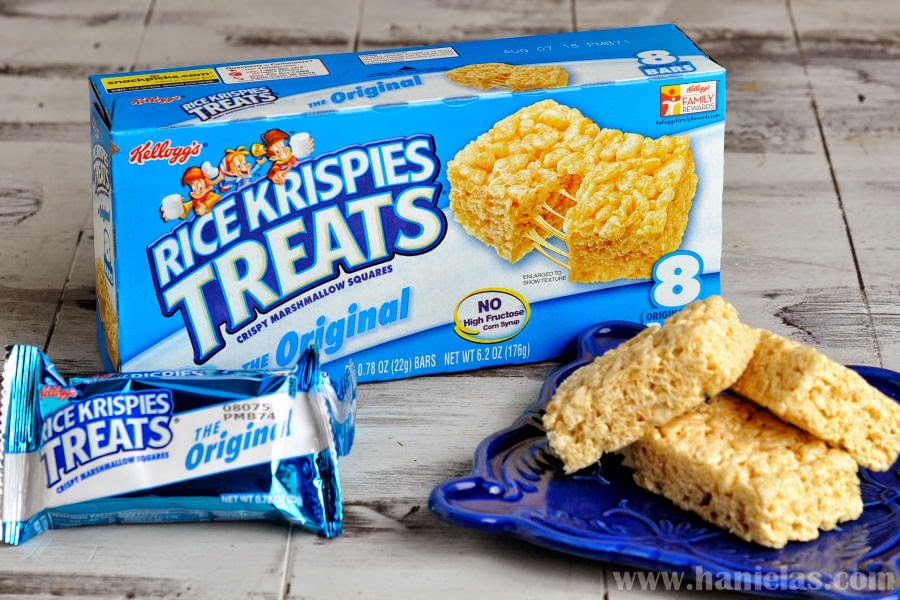 To make the trifle I decided to layer cubed Rice Krispies Treats, with yogurt Jet-Puffed Mini Marshmallows mix, fresh sliced strawberries and I used crushed M&M candies as sprinkles.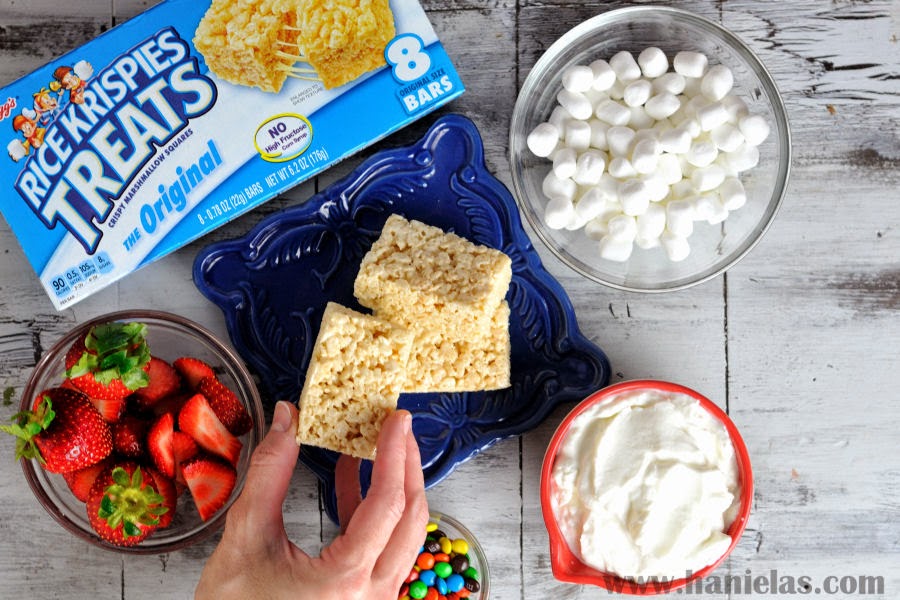 Rice Krispies  Treats Strawberry Yogurt Trifle
Servings 4
4  Kellogg's Rice
Krispies Treats Squares
1 cup Jet-Puffed Miniature Marshmallows
3 tbl  Mini M&M  Candies,plain, crushed
2 cups washed and chopped strawberries
1  1/2 cup plain fat
free Greek yogurt
Tools needed :
knife, cutting board, 4 glass ice cream dishes, spoons
Directions :
Start by cutting Rice Krispies  Treats into small cubes.
Roughly chop marshmallows.
Wash and chop strawberries.
In a large bowl stir together yogurt and marshmallows.
Fill the glass dishes : layer Rice Krispies Treats cubes,
yogurt mix, strawberries, repeat, finishing with yogurt mix, sprinkle chopped
M&M on top. Serve.
Cubed  Rice Kripsies Treats look like cubed bread, kind of like when you make stuffing for turkey, but sweet.
Layering process is super easy and fun. Use a spoon and alternate layers until you come to the top of the your glass. Sprinkle with chocolate and enjoy.
Guess what? I entered my recipe for  Rice Krispies Treats Strawberry Yogurt Trifle into Kellogg's My Happy Contest, recipe was selected by the judges, and I'm one of the  8 finalists.
I wanted to ask you for a huge favor. Stop by the contest page and vote on your favorite treat. It would mean  a world to me if was my treat. By voting on your favorite Kellogg's® Rice Krispies Treats® (please vote for Haniela's:-)) you become eligible and can win awesome prizes(including $250 Bank Issued, pre-loaded gift card and a lot more)
Details on how to enter are posted below.
TO ENTER VISIT Rice Krispies Treats contest page and enter to win by voting!
Contest voting runs 3/24-5/3/15
Limit one (1) entry per Week by voting using a  non private Social Platform account.
HOW TO ENTER THE CONTEST in 2 EASY STEPS
1. Go to your social media account on Twitter, Pinterest or Instagram and share for example : "I love  Kellogg's Rice Krispies Treats Strawberry Yogurt Triffle by @hanielas #RKTreatSweeps."
You can also Pin the image from this post and/or share via Twitter or Instagram, just be sure to include this text in your post : Kellogg's Rice Krispies Treats Strawberry Yogurt Triffle  #RKTreatSweeps
How to find the URL?
Twitter
  – click on the time stamp on your post, highlight the url at the top of the browser, copy and paste into the email and sent to
[email protected]
Pinterest
– click on the pin(image) you shared and highlight the url at the top of the browser, copy and paste into the email and sent to
[email protected]
.
Instagram
– click on the image you shared and then find 3 vertical dots on the bottom, usually on the right hand side of the image.  Click  on  "Copy and Share" link, email to
[email protected]
Prizes: Twenty (20) Grand Prizes will receive:
$250 Bank-issued, pre-loaded Gift Card
Kellogg's® Rice Krispies Treats® squares (XX ct.)
Beats Pills™ Portable Stereo Speaker by Dr. Dre™
(1) bag of Jet-Puffed Mini Marshmallows (10 oz.)
(1) bag of Jet-Puffed Chocolate Swirl snacking marshmallows (3 oz.)
(1) Jet-Puffed Strawberry snacking marshmallows (3 oz.)
(1) bag of Jet-Puffed S'moresMallows
(1) bag of Jet-Puffed StarMallows (8 oz.)
Assorted MARS products
(1) M&M's® dispenser
(1) M&M's® Milk Laydown Bag
(1) M&M's® Peanut Laydown bag
THANK YOU FOR VOTING FOR HANIELA'S