Poison Apple Pinata Cookies
Surprise your little ones with these Snow White inspired Poison Apple Pinata Cookies. These mini sugar cookie treats are really easy to make. Fill them with your favorite little candies, dry fruits or chocolates.
PIN IT for later
Updated post from 2014.
HOW TO MAKE HALLOWEEN APPLE COOKIES
Inspired by Snow White's Evil Queen I made adorable apple shaped pinata cookies. To make these "poisonous" apple sugar cookies I used my Sugar Cookie Recipe and Royal Icing to decorate.
COOKIE CUTTER
To make piñata cookies you need 3 cookies. 1 of which has a cut out center to hide the candy surprise. Just like these colorful Lego Bricks Pinata Cookies.
I rolled my sugar cookie dough about 2/16 inch (3mm) thick. Cut out apple shapes and transfer them onto a baking sheet lined with parchment. Then with a smaller round or flower shaped cutter cut out center in some of the cookies. Bake as usual. Let the cookies cool before decorating.
DECORATE POISON APPLE COOKIES
ROYAL ICING COLORS AND CONSISTENCIES :
Red, Electric Green, Black – 20 second consistency
DECORATING STEPS :
Start by outlining and flooding apple cookie with red royal icing (20sec). Let the icing crust and then pipe the black stem (20sec). Let the icing crust well.
With electric green (20sec) outline eyes and mouth. Then continue outlining top portion of the apple cookie. Create drips at the bottom. And flood the green section. Use a needle tool to smooth and shape the icing. Let icing dry.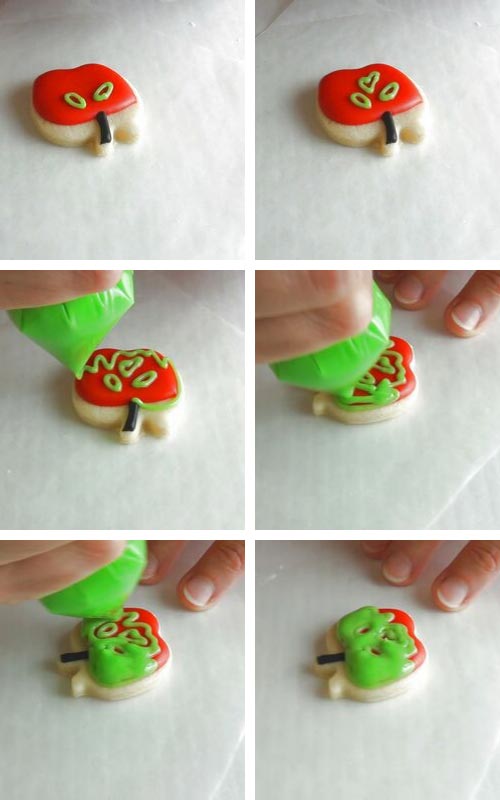 ASSEMBLE PINATA COOKIES
To assemble these cute poison apple piñata cookies glue middle cookie (with a cut out) onto the bottom cookie. Use some royal icing for the glue. Then spoon small candies ( I used nerds candies) into the cavity. Size of candies depends on the cavity size. Glue decorated apple cookie on the middle cookie hiding the candy surprise. Let dry for couple hours.
TO MAKE HALLOWEEN APPLE POISON PINATA COOKIES YOU NEED
MORE CUTE HALLOWEEN DECORATED COOKIE IDEAS :
PIN IT for later
This post was originally published on October 31st, 2014. On September 27h, 2019 I updated this post with new step by step photos, written text and a video.
This post containsThis post contains Amazon affiliate links that earn me a small commission, at no cost to you. I only recommend products that I use and love. Learn more about my affiliate policy here.