Apple Carrot Salad with Grapefruit and Whipped Coconut Cream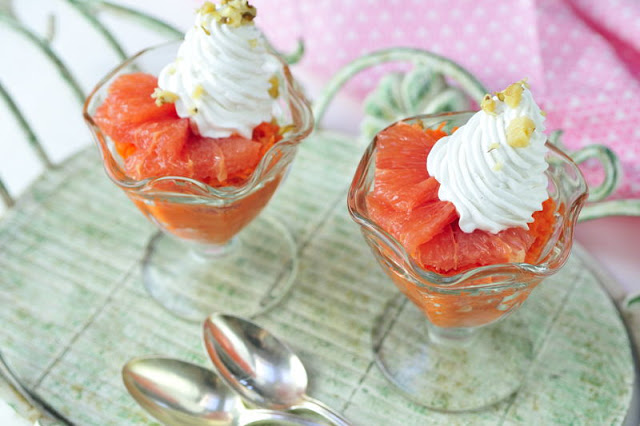 Every Sunday, at lunch my parents would serve us apple carrot salad. Sometime I'd help to make it.
This tradition stuck on me and I've been making it for myself (my hubby is not so much into carrots) even after I moved out from my parents house. It is a healthy habit that I'm glad it stuck.
When I feel, especially at night; when else? I never feel urge to stuff myself with 1/2 gallon ice cream or eat a whole chocolate bar during the day, but at night, yes, I do. So when I do I make myself shredded carrot and apple salad and I sprinkle 1tsp of chopped chocolate on top. Can't help it!
Today I made a deluxe variation of a very simple carrot apple salad my parents used to make for us. I decided to add Whipped Coconut Milk on the top, and threw in few pieces of grapefruit. Citrus does a great job pairing with coconut flavor. It is yummy.
Carrot Grapefruit Salad(serves 4)

2 large carrots
2 medium apples
1 red or pink grapefruit
Whipped Coconut Milk
1can of coconut milk(chilled overnight in the fridge, not light coconut milk)
2tbl powdered sugar
1/2tsp vanilla bean paste
1/4cup toasted walnuts and chopped roughly, or shaved chocolate
Note: put bowl and beaters into the freezer 20 minutes prior whipping the coconut milk
Peel and grate apples and carrots finely. Stir to combine, set aside.
Peel grapefruit, and using a sharp knife cut away the outer white part, cut the grapefruit in rounds, then cut the rounds in half or smaller. Set aside.
Take the coconut milk out of the fridge, don't shake, gently flip the can upside down. Open it with a can opener.
Strain the liquid into a small dish, reserving the white solid chunk.
Spoon the white chunky mess into a chilled bowl, whip with chilled beaters on medium to high speed, add powdered sugar and 1/2tsp vanilla bean.
Into 4 glass dishes divide carrot apple salad, arrange 3 slices of grapefruit on the top.
Fit a piping bag with a large star tip, fill it with whipped coconut cream and pipe a generous amount onto the grapefruit slices.
Sprinkle toasted walnut on the top.
Serve immediately, or store in the fridge for up to 3 hours.
Flip the can, don't shake!
Stain the liquid part, reserve solids
Salad as a dessert? Yes, Please.