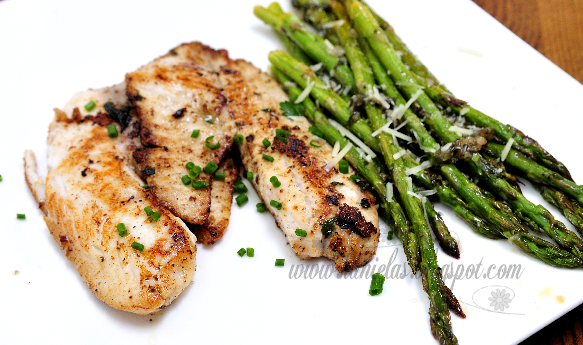 I like Tilapia fish a lot, it is low in fat, relatively cheap, and melts in your mouth. I usually buy fillets that are boneless and ready to use.
As you know it doesn't have distinctive taste so you can flavor it with the use of variety of herbs and with marinades. This recipe is super easy and is delicious just on its own but throw in some roasted asparagus or sauteed sugar peas and you have yourself a delicious meal.
Enjoy.
Ginger Lemon Tilapia
Fresh or frozen Tilapia(thawed)(2fillets)
butter and olive oil
1tbl fresh chopped chives
Marinade
2tsp lemon juice
kosher salt
pepper
2 tsp freshly grated ginger
1 -2 tbl olive oil
1/4 tsp whole or ground caraway seeds
1tbl chopped parsley
In a small dish combine all the marinade ingredients. Pour the marinade over tilapia fillets and gently rub it in, on both sides.
Heat the skillet, add butter and little olive oil. I like to add butter and olive oil for added flavor.
Add fish and cook on medium high, scrape remaining marinade from the dish you had the fish in into the skillet, cook 4 minutes on each side, until done.