Coffee Mascarpone Whipped Cream
Coffee Mascarpone Cream Recipe
Coffee Beans, I used columbian coffee beans/whole beans/
Whipping cream
Mascarpone cheese
(if you don't have vanilla sugar : use vanilla extract and granulated sugar/
For about 3 cups of filling you need:
1 1/2cup whipping cream
1 cup mascarpone cheese
coffee beans 1 tbl /for light coffee flavor/, use more coffee beans for more intense coffee flavor
Vanilla sugar 1 1/2 tbl /or 1/4tsp vanilla extract and 1 1/2 tbl sugar/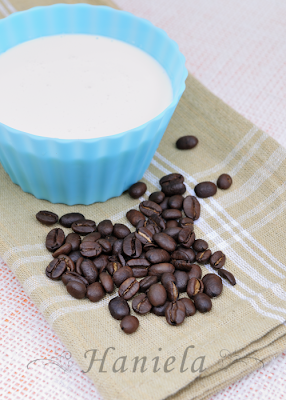 1 1/2 cup Whipping cream : 1tbl coffee beans. If you like strong coffee flavor I suggest you use more coffee beans.
Pour whipping cream in the pot, put coffee beans in the cream and cook on medium heat. Let simmer for about a minute. Remove from the heat and let cool. Remove beans by straining whipping cream cream.Discard coffee beans.
To make the Coffee Mascarpone Cream we have to add mascarpone cheese into our coffee bean infused whipping cream. I used ratio 1 1/2 cup whipping cream : 1 cup mascarpone cheese. If you prefer more mascarpone flavor go ahead use more cheese.
Using your mixer whip the cooled coffee bean infused whipping cream until soft peaks are formed. Add mascarpone cheese,vanilla sugar and whip until combined.
And there you have it, delicious Coffee Mascarpone Cream.
Enjoy.
Related
Strawberry Tiramisu

Ladyfingers

Banana in Chocolate
Orange Petit Beurre Biscuits
Walnut Cranberry Chocolate Biscotti
Swiss Meringue Ribbon Roses
Raspberry Lemon Thumbprint Cookies