These rainbow Fish Cookies are perfect for baby showers or birthday celebrations. Decorated with royal icing adorable fish cookies are simple and easy to make. And they are great for beginner cookie decorators, too.
updated form 2010
PIN IT for later
HOW TO MAKE DECORATED FISH COOKIES
I often made these or similar fish cookies for 1st birthday celebrations. Bold rainbow colors are always a welcomed choice for one-year-olds.
ROYAL ICING EYES AND TEMPLATE
Templates are my best friends when it comes to cookie decorating. They really make the decorating process easier and faster. I mainly use card stock to make my templates. However you can also use stencil blanks. Especially if you plan on reusing templates over and over. Stencil sheet material (Mylar) is definitely more durable than card stock.
COLORS AND CONSISTENCY
White, Black – 25 second consistency royal icing
DECORATING STEPS
Trace the fish body outline on a cookie using a template and edible marker.
How To Make an Eye : To make an eye I use wet on wet technique. First pipe a large white round drop with 25 second royal icing. Smooth the top with a needle tool using a sewing needle motion. Next pipe a black dot into the wet white drop. Again use the needle to smooth black dot. Black will sink into the white. Pipe white reflections with white icing.
How to Add Tiny Reflection Dots: To add a minuscule amount of white royal icing to create reflection use a needle tool/toothpick. Push the piping bag and wait for a little bit of icing to come out of the bag. With a needle tool pick up this tiny drop of icing and carefully place it onto the black royal icing. Let the eye crust before continuing with the next step.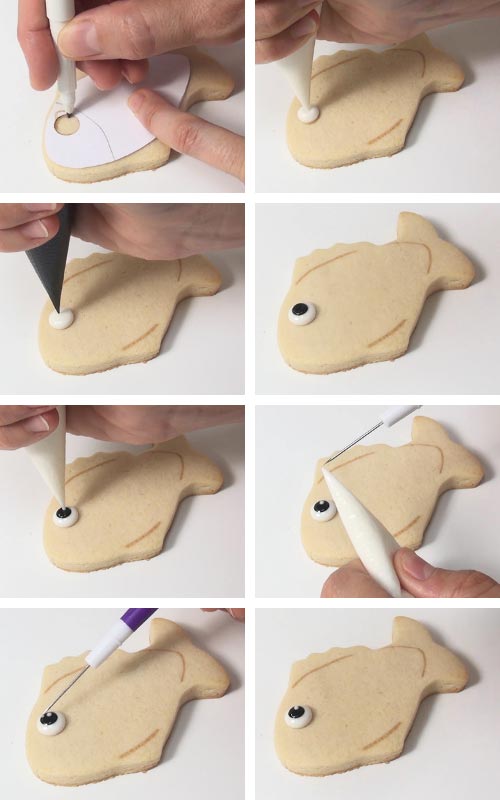 FISH SCALES
COLORS AND CONSISTENCY
Royal Blue, White – 15 second consistency
DECORATING STEPS
Outline body section with blue royal icing 15 second consistency. Use a needle to distribute the icing to the edge.
Next, as soon as you ice the blue section. Take white royal icing 15 second consistency and pipe large dots into the wet blue icing. Right after take the blue icing again and pipe another layer dots directly over the portion of white dots. Leaving a small crescent shape of white. Let icing crust 1 to 2 hours.
FISH TAIL AND FINS
COLOR AND CONSISTENCY
Light Royal Blue – medium stiff consistency royal icing – pipe tail and fins with a leaf tip
Light Royal Blue – piping consistency – separation line and mouth
DECORATING STEPS
Make a Leaf Tip : Cut the tip of the piping bag into a V shape. Use the leaf tip to pipe fish tail and fins. Leaf tip is also used to pipe leaves. Or another great example of its use are these beautiful piped Royal Icing Succulents.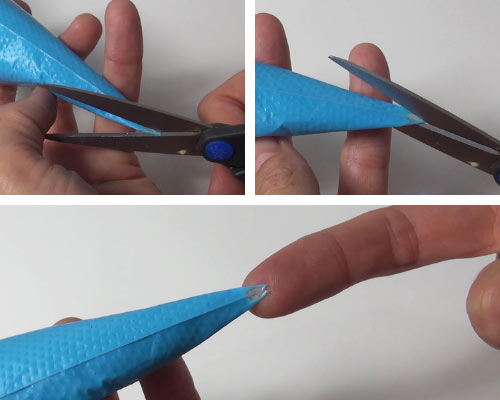 Use light blue medium stiff consistency to pipe the fish tail, top and bottom fins. For the wavy fins move your piping bag slightly up and down as you pipe the fins. Next, take light blue piping consistency royal icing and pipe the separation line and a mouth. Let icing dry before packaging cookies.
TO MAKE RAINBOW FISH COOKIES YOU NEED
MORE FUN IDEAS
PIN IT for later
On July 12, 2019 I updated this post from 2010 with new photos, written text and a video.
This post contains Amazon affiliate links that earn me a small commission, at no cost to you. I only recommend products that I use and love. Learn more about my affiliate policy here.