As you may have noticed I've been making lots of apple treats and today is no different.
I made delicious Apple Plum Butter. I've seen people eating it with bread ;I like it alone, or I'll let you on a little secret, dip/dunk some ladyfinger cookies in and let them soak a bit; strangely as this will sound I also enjoy it with pretzel sticks.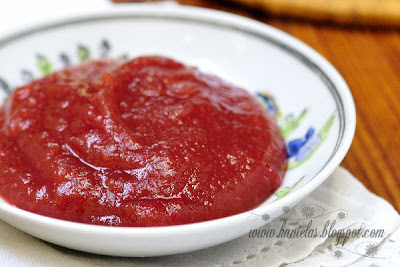 Apple Plum Butter (about 5 cups)
1pound Italian Plums,removed stone
4large apples, peeled, cored and cubed
1cup cranberries
1/2 brown sugar or honey
1cinnamon stick
2 whole star anise
2cloves
1tbl raspberry liqueur
juice and zest of one lemon
1tsp fresh ginger(optional, for a little kick)
1/4cup water
Cook the fruit,water,lemon juice, lemon zest, raspberry liqueur and sugar, until fruit falls apart.Remove from heat and process everything in the food processor or a blender, strain through a fine mesh strainer, return to the pot,add all the spices and continue cooking, uncovered for 40-50 minutes, until it reaches desired thickness.
Store in the fridge.
You can also sterilize small jars and process apple plum butter in a hot bath for 10 minutes, and enjoy some in Winter time or give away as a gift.