Snowball cookies are hard to resist. Their signature buttery, nutty flavor and delicate, crumbly melt-in-your-mouth texture make them a favorite at Holidays, parties, and gatherings. They also go well with a cup of tea or coffee.
BEST MELT IN YOUR MOUTH SNOWBALL COOKIES
These easy-to-make bite-size cookies are famous around the world. You may know them as Mexican Wedding Cookies, Russian Tea Cakes, Snowball Cookies, or Viennese Crescent Cookies.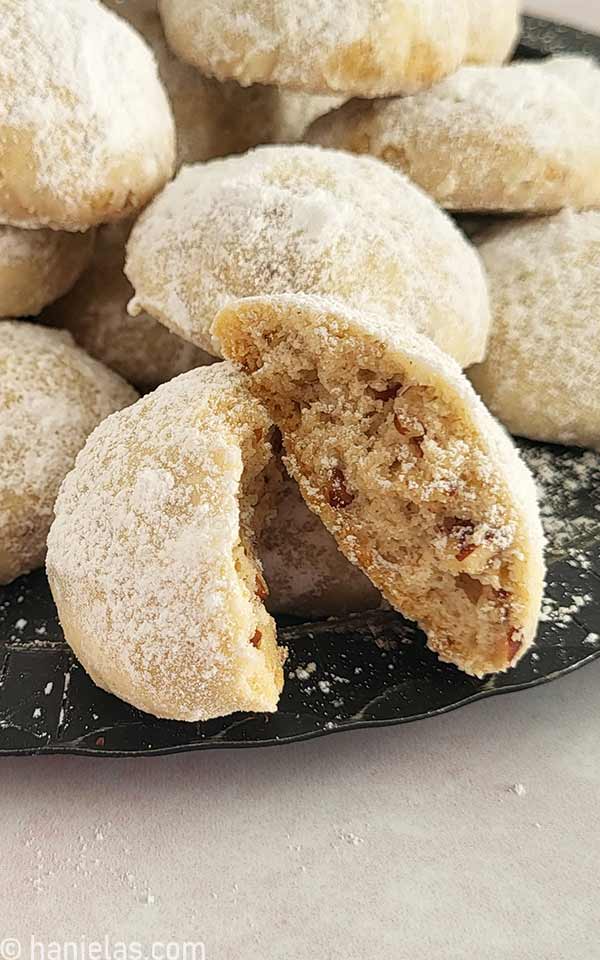 WHAT ARE SNOWBALL COOKIES MADE OF?
Traditionally, these eggless cookies are made with butter, flour, and nuts, shaped into balls, baked, and then rolled in powdered sugar while warm.
Butter – use butter, not margarine
Powdered Sugar
Vanilla Bean Paste or Vanilla Extract
Flour – all-purpose
Cardamom or Cinnamon (optional)
Salt
Toasted Pecans or other nuts like walnuts, almonds, hazelnuts (optional)
Vanilla Sugar (optional) – I use it along with powdered sugar to coat the cookies
VANILLA POWDERED SUGAR COATING
I mix vanilla sugar and powdered sugar for extra flavor and coat cookie while they are warm cookies and then one more time after they cool.
Vanilla sugar often comes in granulated form. First, I pulverize vanilla sugar and then I stir it into powdered sugar to make a vanilla sugar cookie coating. This extra step is so worth it (steps 1-6). You'll thank me later.
FLOUR AND SPICES
Snowball cookies are so versatile and can be flavored not only with extracts but spices, too. Cinnamon and cardamom are the most popular spices used in this cookie recipe. Both add a hint of flavor and warmth. If you don't like spices, you can skip them.
Today I used cardamom along with some table salt to balance the sweetness. Add salt and spice to the all-purpose flour, stir well, and set aside.
PECANS
This simple cookie dough is super versatile. Traditionally pecans are used, but you can substitute pecans for walnuts, hazelnuts, and pistachios.
To get the most out of the nuts, you need to toast them. You can do this in the oven or the skillet. Using the latter, I heated the nuts for about 2-5 minutes on medium-high until warm, golden brown, and fragrant. Toss or stir nuts while toasting, as they may burn quickly. Let them cool for 10 minutes, and then process them in a small food chopper until finely chopped. If you prefer fully ground nuts, you can process them till they are fine.
PREPARE THE COOKIE DOUGH
Making cookie dough is simple: cream butter and powdered sugar, add Vanilla and gradually beat in the flour mixture.
And lastly, beat in cooled and finely chopped nuts, if using. You can immediately shape the cookie balls, or if you plan to make them later, you can wrap the dough and store it in the fridge for up to 3 days. Let if soften before shaping if you chilled it for a long time.
SHAPE THE DOUGH: FORM THE DOUGH INTO BALLS
The easiest way to shape cookie dough into balls is to use a cookie scoop. I use a 1-inch cookie scoop, and it works like a charm. First, I scoop out all the cookie dough onto a tray using a cookie scoop (steps 1-3).
And then, I roll each piece of dough between the palms of my hands. Cover shaped cookie balls loosely with a food wrap and chill for at least 30-60 minutes. Chilling the dough helps to solidify butter so the cookies don't flatten during baking.
BAKE THE COOKIES
Place cookie balls onto a parchment-lined baking sheet, about 1.5 inches apart.
Cookies are baked when they are lightly golden around the edges, and they just start to get some color on them. Let them sit on a baking sheet for 2-3 minutes before coating them in vanilla powdered sugar.
ROLL THE COOKIES IN VANILLA POWDERED SUGAR
While warm, roll the cookies in the vanilla powdered sugar. Since cookies are still warm, you need to handle them carefully so they don't break. Some of the sugar will dissolve on the surface of the cookies. This is okay. Once the cookies cool, you can coat them in vanilla sugar again. The "primer" sugar layer will make the second coat stick better.
SNOWBALL COOKIES SUCCESS TIPS
Why are my cookies dry and falling apart? You cookie dough needs a little more moisture. Perhaps too much flour was added. It can also indicate that cookies were baked for too long.
My cookies baked flat, what happened?

Most likely butter was too soft when creamed with sugar. Use room temperature butter. Chill the cookies before baking.
Mix the cookie dough just until combined, if you add too much air to it, cookie dough will likely collapse during baking.
Don't use granulated sugar, it tends to cause spreading.

Can snowball cookies be frozen? Yes, freeze cookies for up to 3 months.
Is it possible to make Mexican wedding cookies without nuts? – Absolutely.
How do you know if my snowball cookies are done? Cookies should be lightly golden around the bottom edges with a little color on the top. Don't overbake.
What is the difference between Mexican wedding cookies, Russian tea cookies and Snowball Cookies? The name, they are the same thing, though some variations use to certain nuts.
How to store snowball cookies? Cookies keep well, in an airtight container layered between wax paper sheets.
How long do cookies last? Cookies keep for 10-14 days at cool room temperature. They are best within 8 days.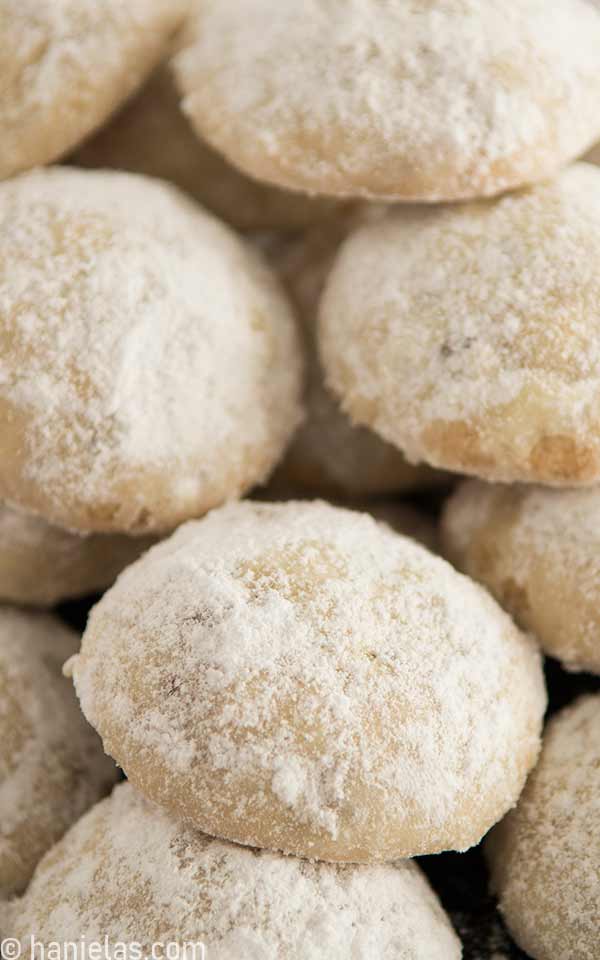 CREATIVE SNOWBALL COOKIES FLAVOR IDEAS
Make almond cookies -use ground almonds, Vanilla, and ¼ teaspoon Almond Extract.
Chocolate chips – try mini chocolate chips (1/4 cup) to introduce chocolate flavor. It pairs nicely with cinnamon.
Are you a fan of the refreshing citrus flavor? Why not try zest of lemon or orange. Use 1 tablespoon of zest per batch of cookie dough. Beat zest into the butter, along with Vanilla Extract.
Coconut– use shredded coconut along with ½ teaspoon coconut extract.
Vanilla Bean – skip the nuts and double down on the Vanilla flavor. Use Vanilla Extract and Vanilla Bean, to create pure vanilla-butter heaven.
Color dough with food coloring for special occasions like Valentine's Day or Christmas.
MORE DELICIOUS HOLIDAY COOKIES
Snowball cookies (Mexican Wedding Cookies, Russian Tea Cakes)
The recipe makes about 24-30 cookies.
Serving size two cookies
Ingredients
Cookie Dough
1

cup

unsalted butter, room temperature (2stick, 226grams)

1/2

cup

powdered sugar (62 grams)

2

cups

all-purpose flour (285 grams)

1 1/2

teaspoon

Vanilla Extract

¼

tsp

table salt

½

tsp

cardamom or cinnamon (optional)

1

cup

pecans halves, toasted (110grams)
Sugar Topping
1

cup

powdered sugar (125grams)

2

tablespoon

vanilla sugar, pulverized to fine powder, I used a coffee grinder for spices

pulverized to a fine powder, I use a coffee grinder for spices
Instructions
Vanilla Powdered Sugar Coating
Add powdered sugar 1 cup (125 grams) into a medium-sized bowl. If your vanilla sugar is granulated, pulverize vanilla sugar (2 tablespoons) until fine and pour the fine vanilla powder into the bowl with powdered sugar, stir to combine with a fork or spoon. Set aside.
Toast Nuts
In a medium skillet, toast pecan halves (1 cup, 110 grams) over medium heat, frequently stirring, until they smell fragrant and the pecans should darken slightly. Remove from the heat and let cool to lukewarm.

Once toasted nuts are lukewarm, crush them into small pieces. Either use a small food chopper and process them just till chopped into small pieces. Don't process them till fine. You want the cookies with a little bit of a bite to them. Or, if you don't have a food chopper put toasted pecans into a Ziploc bag, Close the bag, and place the bag onto a kitchen towel. Use a rolling pin or a smooth side of meat thinner to crush nuts in the bag. Or use a knife to chop them finely.
Cookie Dough
Into a bowl, sift flour (2cups, 280grams), salt (1/2 teaspoon) and cardamom or cinnamon (1/2 teaspoon). Set aside.

You can use a stand or hand-held mixer to make the dough. Use a paddle attachment with a stand mixer and wire beaters with a handheld mixer.

In a mixing bowl, on medium speed, cream butter (1 cup, 2 sticks, 226 grams) for 30 seconds. Add powdered sugar (1/2 cup, 62 grams) and cream until pale in color and fluffy, about 5 minutes. Beat in Vanilla Extract (1 ½ tsp), and scrape down the bowl.

On low speed, in 2 additions, beat the flour mixture into the butter mixture. Once the flour is moist throughout and the dense dough is formed, on low speed, add chopped pecans and mix just until incorporated.
Shape Cookie Balls
With a 1-inch cookie scoop, measure cookie dough and drop equal amounts of cookie dough onto a plate. Once you are done with all the cookie dough, shape each piece of cookie dough into a ball and place it onto a plate. Cover and chill for 30-60 minutes.
Bake Cookies
Transfer cookies onto a baking sheet lined with parchment, leaving about 1.5 inches between the cookie balls. Bake for 15 -16 minutes, until they get slightly golden on the bottom. Let cookies cool for 2 minutes before coating them in powdered sugar.
Coat Cookies in Sugar
Generously coat warm cookies with Vanilla Powdered Sugar. Place cookies on a tray lined with wax paper and let cool completely—coat cookies one more time after they cool.

Tip: Dust the cookies with powdered sugar before serving and packaging. Cookies keep at cool room temperature for up to 10-14 days. Or freeze for up to 3 months.
Notes
Why are my cookies dry and falling apart? Your cookie dough needs a little more moisture. Perhaps too much flour was added. It can also indicate that cookies were baked for too long.

My cookies baked flat; what happened? Most likely, the butter was too soft when creamed with sugar. Use room-temperature butter. Chill the cookies before baking. Mix the cookie dough until combined; if you add too much air to it, cookies will likely collapse – flatten during baking.
Did you make this recipe? Tag @hanielas on Instagram and hashtag it #hanielas