Pen Pals Meet after 20 years
Usually I stir away from posting personal stuff, but this is just too sweet not to share it. Maybe it will inspire you to search for your friends whom you haven't heard of or seen in many years.
Nearly 20 years ago, when growing up in Europe, I just shook my head in disbelieve,but yes, that is how long it's been. I had a friend pen pal Rachel. We were pen pals for quite some time, I remember the excitement every time I got a letter from America. As we got older we shifted apart, until…
What do you know ?! Facebook's been invented and Rachel did a search using my name…and this past Wednesday I got an email saying: "Do you remember me?".I have to tell you I was hysterical…I mean in a good way, of course. How exciting!!! Today 4 days later after the first email, for the first time Rachel and I met, we had a wonderful lunch in our back yard. Rachel has a wonderful family, husband, two adorable children and a puppy.
Today was a great day. I found a lost friend.♥♥♥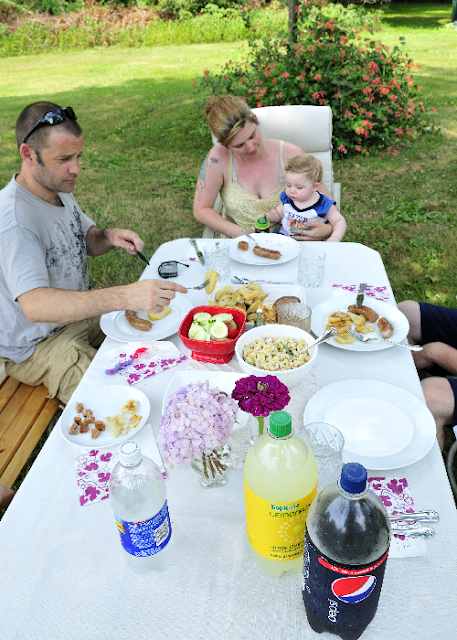 In case you are wondering…
on the Menu:
– grilled homemade pork kielbasa /yes, we make our own kielbasa/sausage/
-grilled zucchini – fresh from our garden.
-grilled potatoes
-tomatoes and cucumbers
– pasta salad with beans, chicken, parsley, chives/fresh from our garden/, light mayo, lemons zest, lemon juice, salt pepper, pinch of sugar
-chocolate and strawberry swirl ice cream from Tanner Brothers – without a doubt the best ice cream in the area. Tanner Brothers
-sweet bread fruit cheese tartlets, assortment included : blueberry, strawberry, cherry, nectarine -made fresh in the morning, when making these I found myself thinking of a wonderful movie Under the Tuscan Sun.
I picked these early in the morning, I almost felt like Barefoot Contessa in her back yard..picking fruit for lunch.;-)) It really can't get better than this. Fresh Fresh Fresh. Beans are doing really well as well.
I love blueberries, and cherries, I got them at a local farm.
I hope I didn't leave you too too hungry, but don't worry in my next post I'll show you those delicious tartlets I made…oh they were wonderful and I will introduce you to our garden " Morning Sunshine and Piggie's Delight"
Have a fabulous week everyone.
Thanks for stopping by and checking what is happening in my little corner of the world.
I'd love to hear your stories, if you have similar ones, of finding a lost friend.