Elegant Christmas Ornaments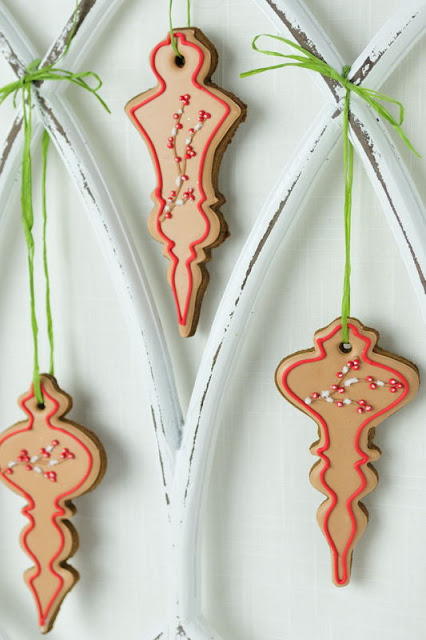 I'm loving this color scheme this year. Beige, red and white. It is simple and elegant. I was color inspired by the cover picture of Martha Stewart Living magazine.
I hope you won't mind, I didn't make a picture step by step tutorial as I kind of ran out of time. This design can be adapted to any cookie cutter shape you have. Keeping it simple makes them really pop, what do you think ?
To make the cookies I used beautiful Cookie Cutter Christmas Ornaments by Fancy Flours.
Small Batch Royal icing recipe
Cut out cookie recipes
Gel Food Colorings
Cookies flooded with a base beige color.
Once the beige base is dry you can pipe remaining details.Holly branch was piped after the red border dried .Once the piped brown branch is dry,
add dots of white icing and sprinkle sanding sugar on top to achieve the
snowy look.
To style my photo I used a recently bought wood window wall piece. I got it at a garage sale for a steal of $10. Pretty neat, isn't it?
Green raffia was used to hang the cookies.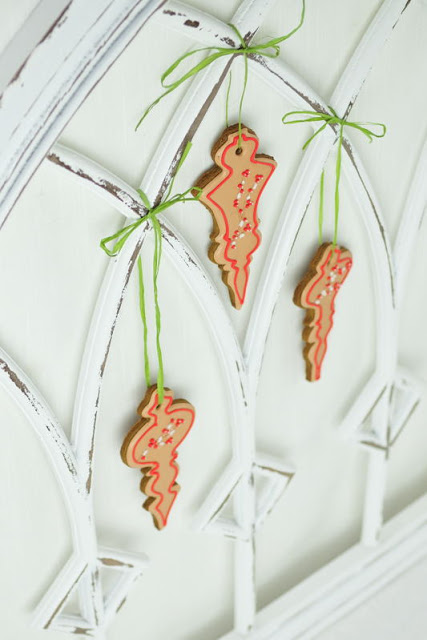 Linking to Sugar & Slice Party at Sweet 2 Eat Baking