I can't believe it's been a year since I made
Ladybug Cake
for little Audrey!
She is turning 2,or I should say she turned 2 few days ago. She is all about Dora the Explorer these days and so it only seemed appropriate to make the Dora Cake.
~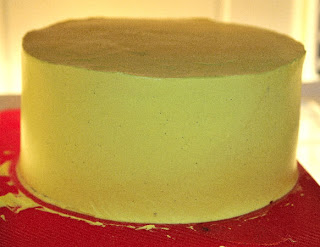 Gumpaste Figures
Once again I chose to test my abilities with making gumpaste figures and all I have to say is that I bow to all of you who make it look so easy, simply because it is most definitely not! I struggled with these but at the end they somehow came together.Sort of anyway. I dusted them off with pearl luster dust to give them a little shimmer. I love shimmer.
Unfortunately you can't see the green bow that I was so proud of, cake Dora is holding in front of her kind of got in the way.
Dora and Boots Figures
Rainbow
Rainbow is one of my favorite features of the cake, I also used gumpaste to make it and I dusted it with rainbow disco dust for more sparkle.
Clouds as you see were also dusted with disco dust, they were made with fondant.
Cake Support
Cake was very light textured and so I was little worried about having a disaster in the car while transporting it.
This cake survived over a 2 hour drive. To make the cake sturdier I decide to test a new doweling technique.
I filled the holes with melted chocolate melts and then then used straws for the dowels.