I made applesauce last week. Seemed like a lot of work for just mere 3 quarts of applesauce. But it is so good and I'm glad I made it. I only wish I had an apple peeler and corer tool. It would make my life easier, as I had to peel and core lots of apples.
To season my applesauce I didn't use any sugar, nor I used complicated spices. I used few cinnamon sticks to flavor the apples and that's it. It is the best. You can really taste the apples.
I processed the jars in water bath but one jar didn't seal and I really didn't feel like processing it again so I kept it in the fridge with the souffle in mind.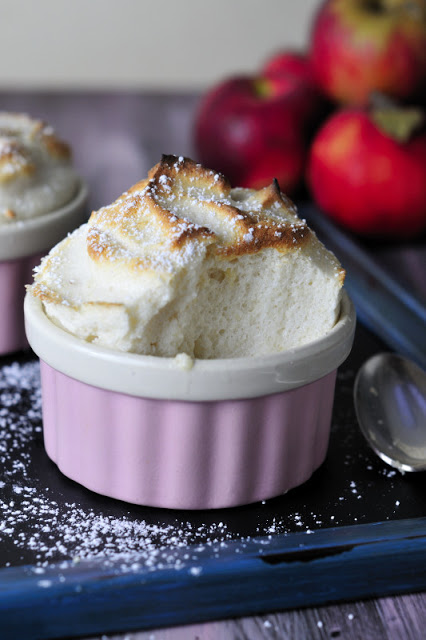 Applesauce Souffle (serves 6)
2 1/2 cups unsweetened applesauce, room temperature(I used homemade applesauce that had few apple chunks in, you can also use store bought)
6 egg whites, room temperature
1/2tsp cream of tartar
1/2 cup sugar
2tbl butter
granulated sugar for dusting the ramekins
Preheat oven to 395F
Butter 6 ramekin dishes and sprinkle each ramekin with granulated sugar to coat evenly, make sure you coat the dished up to the rim. Shake out excess sugar.
Place ramekins on a baking sheet and set aside.
Wipe the bowl of you mixer clean, grease free. I use white vinegar to do the job.Wipe the bowl dry.
Whip egg whites, until soft peaks are formed, add cream of tartar and gradually add sugar, whip until stiff and shiny peaks are formed. Don't over beat or egg whites will become grainy.
Gently fold the egg whites into a room temperature applesauce. Do not over mix.
Spoon equal amounts of apple mixture into the prepared ramekins. Don't be afraid to pile it up 3/4 inch to 1 inch above the rim of your dish.
Bake for 5 minutes at 395F. Lower the oven temperature to 360F and bake additional 7-10 minutes.
While baking, souffle will rise and tops will become golden brown.
Carefully take the baking sheet with souffles out of the oven. Dust with some powdered sugar and enjoy immediately.
I ended up saving some souffle for later in the fridge, though it deflated it still tasted pretty good, even the next day.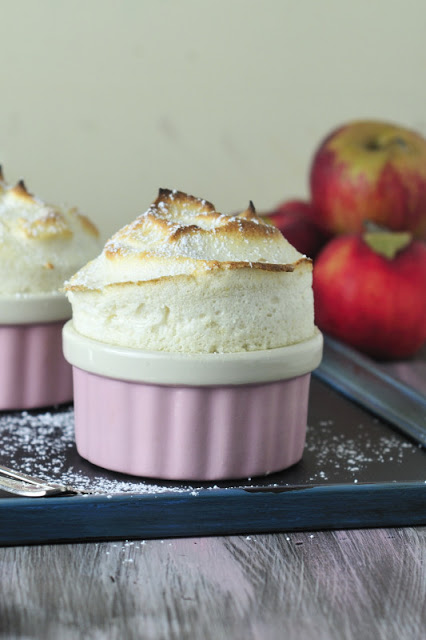 Linking up to Tidy Mom : I'm Lovin' It