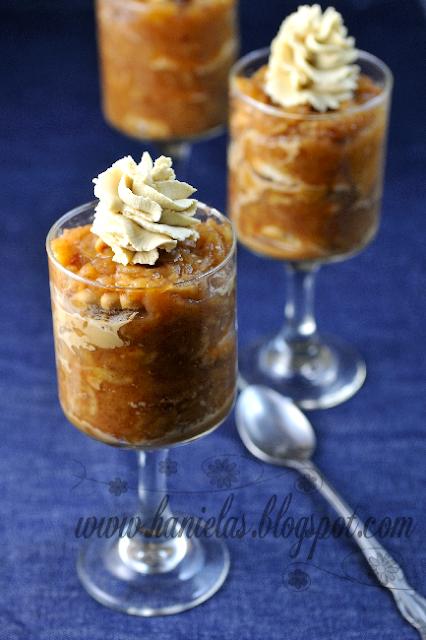 You are going to love this one! It is a no bake dessert, and you probably have all the ingredients within the reach in your kitchen. I just ate one of these and it is so delicious!
I used glasses of capacity 1 cup each.
Haniela's Apple Trifle

6 servings – one cup glasses
Apple filling
5 medium apples( peeled, cored and grated)
3tbl brown sugar
juice of one lemon
lemon zest of one lemon
1 1/2tsp cinnamon
1/4 cup water
4 -5 tbl corn starch
other fillings :
peanut butter chips
chopped nuts
caramel ( you can make your own caramel, just follow the recipe
here
)
tea biscuits, or any vanilla biscuits you have on hand
Topping -Frosting
1/4 cup heavy cream
1/2 cup mascarpone cheese
1tsp espresso powder
1tbl sugar
1tsp water
Apple Filling
In a medium size pan combine grated apples, sugar, lemon zest, lemon juice, cinnamon, cook on medium high, for about 15 minutes, until apples are soft. Stir occasionally to prevent apples burning.
In the meantime mix 4-5tbl cornstarch with 1/4 water, add cornstarch mixture into the apple mixture and stir. Mixture will thicken, bring it to boil and let boil for about a minute. Remove from heat and set aside for a moment.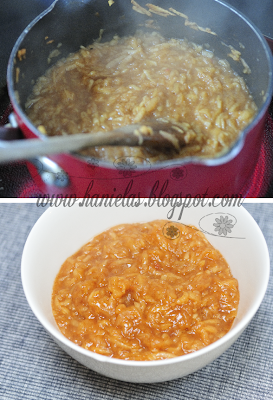 Assembly Apple Trifle
I used glasses with capacity of 1 cup each.
Fill the glasses in this order:
-caramel about 1 tsp
– broken up biscuits
-slightly cooled cooked apple mixture
– several peanut butter chips
-broken up biscuits
-apple mixture
– caramel about 1tsp
-chopped nuts
-broken up biscuits
-apple mixture
-few peanut butter chips
Chill for several hours, best overnight, so the biscuit have time to soften, covered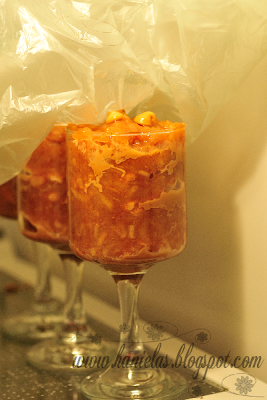 Frosting
dissolve espresso powder in 1tsp water.
beat mascarpone cheese with heavy cream, add sugar and dissolved expresso.
Beat until stiff.
Using a spoon or a pastry bag fit with a star tip, spoon or pipe the frosting on the top of your chilled apple trufles.