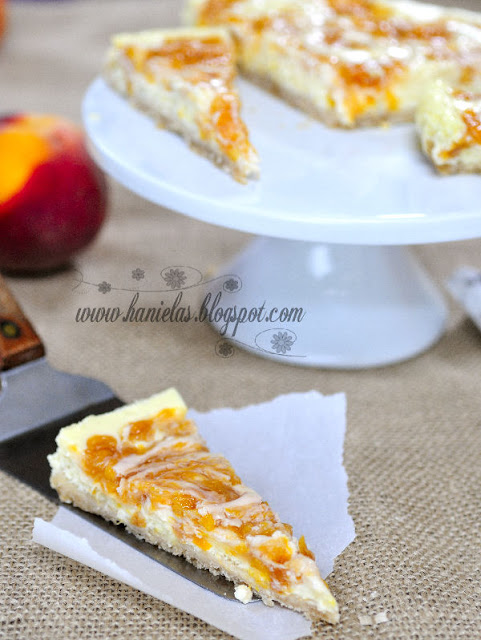 I love peaches. There is a farm up the road where they sell seasonal fruit, and they are pretty famous for their peaches, well so I've heard, I've never tried their fruit. Somehow peaches I bought before never really lived up to my expectations, expectations that were instilled in me ever since I was a child and my mom or grandmother bought 20 or 30 kilos delicious peaches to make jam or to put them in jars for us to eat over the Winter.
Well, it was the first week of September and as the peach season was winding down I finally went to the farm up the road to check out their peaches. They sell them in baskets, and you what I don't like about those baskets, when I buy them I usually find a bad fruit at the bottom so that's why I'm so reluctant to buy those. As I was shopping for onion and other things I noticed lady at the register was making new peach baskets and she was throwing the bad peaches straight into the trash bin by the wall. I bough two baskets of peaches and they lasted me a week on the counter top, in my kitchen. This would have never happened with the other peaches I had bought before.
I read an article about soft fruit, especially peaches, how easily they get bruised and many times they are being treated with chemicals to prolong their shelf life in the store but once you bring them home they go bad within a few days. Well obviously not these peaches. I felt like I hit the jackpot with these. I love how they smelled, they were firm to the touch, smelled like a ripe peach should smell and they were so juicy, took me right to my grandmother's yard.
Initially I wanted to make some jam, but I quickly changed that decision to eat them fresh or to bake something.
Few weeks back I bought Cooking Light Magazine Best Baking Recipes. I've already tried 2 of the recipes. Second one can be found
here
. I altered them both a bit to my liking and they both were delicious.
This cheesecake recipe called for cherries, I used peaches and you can substitute for any seasonal fruit.
Peach Cheesecake Tart

Crust

1cup all purpose flour
1/4cup whole wheat pastry flour
1tbl oats
6tbl powdered sugar
6tbl chilled butter, cut into small pieces
1/8tsp salt
4-5tbs chilled water
Filling
4 large fresh peaches, stone removed, and cut in wedges
2tbl honey
2tbl water
1/2tsp cinnamon
juice of one lemon
3tsp cornstarch
1cup cream cheese
1/2cup fat free Greek yogurt
1/3 cup brown sugar
1/2tsp vanilla extract
2 eggs
Preheat oven to 350F
Line a 8-9 inch tart pan(with removable bottom) with aluminum foil and spray with Pam spray or brush wish a bit of oil. I set the tart pan on the top of the baking sheet for easier handling.
Make the Crust
Combine flours, oats, powdered sugar and salt, add chilled butter, using a pastry blender or your hand work the butter a with your fingers, add chilled water by tablespoons, and work it until it resembles coarse meal,(do not knead) it will be crumbly. Press the mixture into the bottom of a prepared tart pan. Bake at 350F for 20-23 minutes, until lightly browned. Remove from oven and let cool completely. Reduce oven temperature to 325F
Make Filling
Put peaches,honey,water and cinnamon into the sauce pan and bring to boil. Reduce heat and cook for 5 minutes, or until peaches are tender.In the meantime combine lemon juice and cornstarch in a small dish. Add corn starch mixture into the peaches and stir for 2 minutes, mixture will thicken. You can now process the peach mixture in the blender or food processor. I like the texture so I left the peach filling undisturbed and it looks pretty to have chunks of fruit in the cake.
Using a hand held mixer beat cream cheese, add brown sugar, beat until well combined add Greek Yogurt,eggs and vanilla extract and beat until smooth.
Spoon cheese mixture into the cooled crust, spoon the cooled peach mixture on top, you can gently swirl it if you'd like. Bake at 325F, for 30-40 minutes, until set.
Remove tart pan from the oven and let cool completely, and then chill for 4 hours in the fridge.
Gently remove cake from the tart pan, removable bottom is very helpful here.
Enjoy.