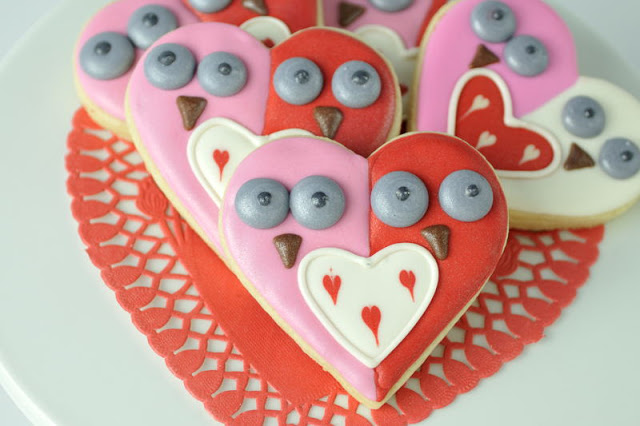 How about some owls in love? Here is my take on Heart Owls Cookies.
These cookies were inspired by Callye from Sugarbelle's. Her
Heart Owls Cookies
stuck on me and finally over a year later I put a little spin on these and made Owls in Love Cookies.
To Make Owls in Love Cookies you need:
Red, Pink, Chocolate Brown Food Coloring -15 second icing
White icing and little amount of Red icing – 10 second icing
Large needle or a pin
Small heart template or you can use a small heart cookie cutter to mark the piping guide
Using a pin and a small heart shaped template or you can use a small cookie cutter, trace the heart shape onto the cookie.
Fill the small heart with white icing, immediately followed with adding 3 dots of red 10 second icing. Using a pin or toothpick, pull dots towards you creating a heart shape. Let crust slightly.
Flood one half of the cookie with red-15 second icing, let crust slightly then flood remaining half with pink icing.Let dry.
Pipe grey eyes and then take black icing and pipe little dots directly onto a wet grey icing. Let dry.
Check out these other Owl inspired treats:
Snow Owl Cookies
Owl Apple Pie
Owl Cake
Owl Pumpkin Cookies