Candy Crush Cookies, Collaboration with Munchkin Munchies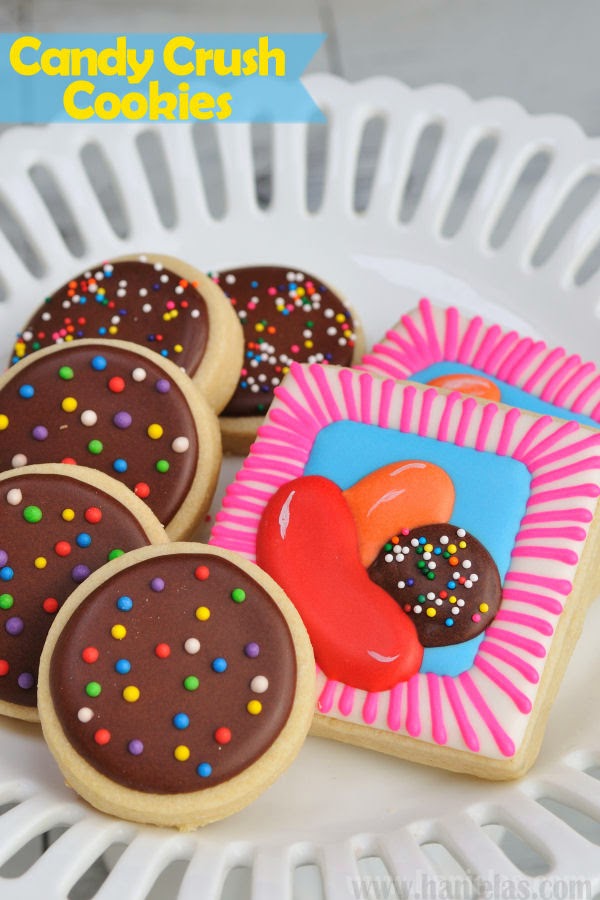 Several weeks ago I had a Facebook chitchat with Sue from Munchkin Munchies. We decided to team up in a fun collaboration inspired by The Sweetest Game : Candy Crush Saga.
Sue made adorable  Brownie Pops and you can find out how to make them at the end of this post.
I made matching cookies to go with brownie pops. Together it's a colorful ensemble and I hope you like it.
To make Candy Crush Cookies you need:
Square Cookie Cutter
Round Cookie Cutter
Rainbow Nonpareils
Brown Petal Dust by Wilton, use FDA product
Edible Markers by Americolors  or a  pin
Sugar Cookies
Royal Icing Recipe
15 Second  Icing:  white, blue, brown, red, orange
10 Second  Icing : pink
How To Thin Royal Icing
Professional Needle Tool or toothpick
Americolor Gel Food Colorings
Learn how to make Candy Crush Cookies in this video:
Do you want to know how to make these fun little treats?  Head over to Munchkin Munchies and find out how you can create Candy Crush  Brownie Pops .