Roasted Cauliflower Casserole

Here is the thing, our 48 pepper plants have produced hundreds of peppers this year. They are 8 feet tall and they don't seem to want to stop growing. Peppers managed to take over my kitchen in such force, they are pretty much everywhere. I add them to nearly every dish I make (I need to figure out how to add them to morning Neetle Tea ;-)). They are so awesome, I don't know what I'll do when the pepper season is over. I'll miss having them within an arm's reach.
We stopped at the grocery store, I didn't feel like going in so my hubby went. We came home and I opened the trunk and there… 2 gorgeous, pure white cauliflowers. Surprise! Yay. Do you think it's weird that I get excited about a nice looking cauliflower?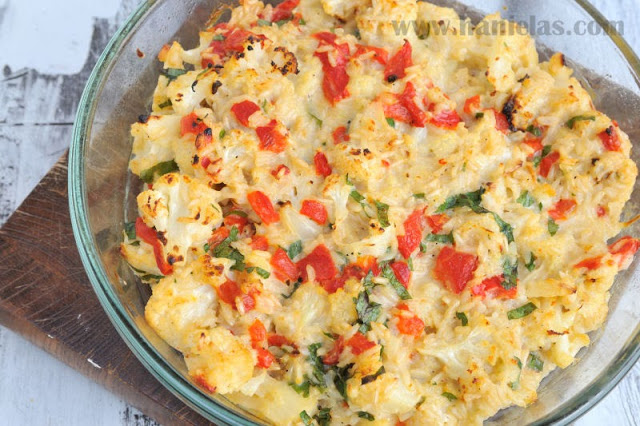 Roasted Cauliflower Casserole (serves 4 to 6)
1 large cauliflower head, washed, cut into small florets
2tbl olive oil
1tsp kosher salt
1/8tsp fresh ground pepper
1 medium onion, diced
1 heaping tablespoon all purpose flour
1cup milk
1/2 cup chicken stock/broth
1cup cooked brown rice
1/3cup parmesan cheese
1egg
3tbl fresh parsley, chopped
3 garlic cloves, roasted (roast them when you make the roasted peppers, drizzle 3 clove with some olive oil, wrap into foil and roast the pouch with peppers)
olive oil, salt and fresh pepper to taste
Preheat oven to 400F.

Line a baking sheet with aluminum foil. Set aside.

Transfer cauliflower florets onto the baking sheet. In a small dish stir together 2tbl olive oil, 1tsp kosher salt and 1/8tsp fresh ground pepper. Pour over cauliflower, using your hands, toss the cauliflower around, coating well with olive oil seasoning.

Roast in the oven for 20 minutes, or until knife tender. Remove from the oven.

Lower oven temperature to 350F.

Prepare cheese sauce : heat 1tsp olive oil, add onion, cook until onion is caramelized, dust with flour, stir well, cook stirring for one minute, gradually add chicken stock and milk, using whisk to eliminate any flour lumps. Cook until mixture thickens. Remove about 1/2 cup into a small dish, quickly whisk in one egg to temper, return egg mixture into the remaining sauce. Add parmesan cheese. Cook until cheese is melted, taste, season with salt and pepper if needed.

In a bowl stir cooked rice, roasted cauliflower, parsley, chopped peppers, and soft roasted garlic, pour cheese sauce in stir until well coated.

Pour into a casserole dish.

Bake for 25-30 minutes, until top is golden.

Enjoy.
Linking to We are That Family