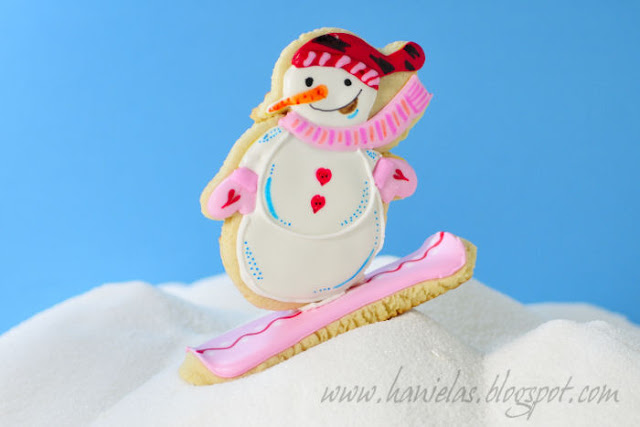 Few weeks back my blogging friend Georganne from LilaLoa was hosting a Virtual Snowman Party. For the party I decide to make an Snowboarding Snowman. 😉 In case you haven't seen it before here she is, in all her glory.
I named my Snowman Johanka, I've been video skyping with my SIL and her 8months old baby Johanka and every time I show her my snowman she stops blinking, her eyes motionless and starts laughing and smiling and wants to touch the monitor, cutest thing. I love her.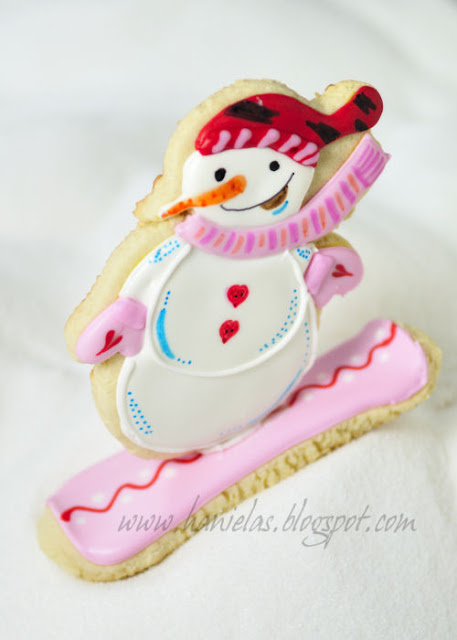 Prepare cookie dough and royal icing, color royal icing with desired colors, fill piping bags with outline consistency and flood consisteny icing for each color using
Make a template for snowboard and snowman(it is not entirely necessary if you have a proper size cookie cutter for snowman, I have either small or large cutter so I decided to make a template that would work for my project, )
I cut my cookie slightly larger then my template, once baked and cooled, I used yellow food coloring pen and outlined my template directly onto the cookie-see yellow lines
I piped outlines on Snowman and Snowboard
Flood both cookies with royal icing, let dry completely
Using Food Coloring Pens add details onto the snowman cookie
Attach snowman to the snowboard using a medium to stiff consistency royal icing
Support snowman from several sides and let dry for several hours until he stands on his own
Enjoy.