This recipe was given to me by my mom. My mom's recipes never disappoint, these biscuits are soft and delicious..after the last bite..you sure will want one more.
Potato Biscuits
one potato two potato three potato four
these are biscuits to love and adore
soft and delicious easy to make
follow the recipe and watch them bake
© Iris Zuares
Creative works of Iris can be also
These biscuits proved to be a great energy boost as well. I made them early this morning, as I knew during the day I will not get a chance to make a lunch or anything else. We are building a raised bed garden, and we had another truck of top soil delivered today….lots and lots of wheelbarrows. So during the short breaks we took during this yard work we snacked on these biscuits. Yummy, I'm so glad I made them this morning.
Recipe
Potatoes cooked in skins/about 3 large potatoes-cooled/
2 cups of peeled and grated potatoes
3cups flour
2 -3 tsp of salt/ potatoes will absorb some of the salt/
1egg
200 ml oil
42 grams of fresh yeast *
1 cup milk
grated cheese to go on the top/optional/
caraway seeds/optional/
egg wash for brushing
Oven 350F/195C/
So for the whole recipe you need to use 2.5 packets of dry yeast -17.5 grams of dry yeast
——————————————————————————–

——————————————————————————–
Prepare yeast
I always test my yeast prior adding it to the flour and other ingredients, even though dry yeast is marked with the expiration date and should be active until that date, I always want to make sure it is 100% active. When working with fresh yeast this process is necessary.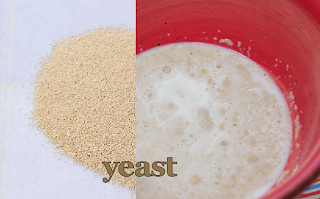 Take 1cup milk and warm it to approximately 90-100F/32-37C/, it should be warmer than your body temperature but not hot. Hot milk will kill the yeast. Pour heated milk into a bowl, container what ever you have on hand. Add a pinch of sugar to the milk, stir, add the yeast and stir the yeast into the milk. Cover with plastic wrap and let sit for several minutes. When the yeast has become bubbly or foamy on the top, your yeast is active and ready to be used.
In the meantime while your yeast is getting activated take a large bowl and put sifted flour, salt, grated potatoes, egg, oil and at last your activated yeast into the bowl and mix well with a wooden spoon.
Secret of delicious biscuits is slightly soft dough, so don't be worried when the dough is sticky. It is okay.
Cover with plastic wrap and let rise in warm place.Once risen, dump the dough onto a well floured surface, at this point you can knead it for a minute, and then just using your hand spread the dough,with palm of you hand to about 1 -11/4 inch/2.54cm-3cm/ thick. Avoid using large cutters,I used a small circle cutter. If you don't have a small cutter, find a small glass and you can easily use that instead, just make sure you dip the edges in the flour to prevent sticking.
Preheat the oven to 350 F/195C/
Place the biscuits on the parchment lined baking sheets, and let rise again, for about 20 minutes or so.
Brush the tops with egg wash. I sprinkled some caraway seeds on the top as well. Bake at preheated oven, for about 20 minute or so, when risen what I did I turned on the broiled and let them broil for a minute or 2 to get the tops a bit brown.At this time you could also add some grated cheese on the top if you'd like.
Take them out of the oven, let cool or eat warm, both ways there are delicious.
I recommend freezing them the day they are made and then you can snack on them during the week, and they feel like fresh from the oven. When defrosting them, I recommend just letting them defrost naturally, if you must use the microwave, they are best eaten immediately after they come out of the microwave.Also, I halved this recipe and it worked perfectly fine.
Hope you like them.