Last year I shared with you how to make beautiful and colorful monarch Butterfly Cookies. Today we are going to follow up with a beautiful Buttercream Butterfly Cake.
Recipes and tools you need to make this pretty Buttercream Butterfly Cake:
Velvet Vanilla Pound Cake – 6 inch cakes, cut in half and torted
American Buttercream or Swiss Buttercream.
Ganache (optional) – use ganache to ice the cake and avoid using black food coloring
Food Colorings : Orange, Yellow and Black
Round Piping Tip #12 and #2
Piping Bags
Fill the cake with buttercream, chill for 1 hour. Using a template cut out the shapes then glue 2 halves together with buttercream. Crumb coat the cake and chill for 30 minutes. Ice the cake with black buttercream or use ganache instead. Smooth the frosting and chill for an hour.
Prepare yellow and orange buttercream. If are using Swiss Buttercream you might like to check out how to color Swiss Buttercream.
Place the stencil on a well chilled cake and pipe yellow and orange buttercream onto the stencil as you can see me doing in the video. Use a spatula and spread the buttercream over the stencil, in one direction – from center to the outer edge. Carefully lift up the stencil. Wipe it clean and repeat on the other side.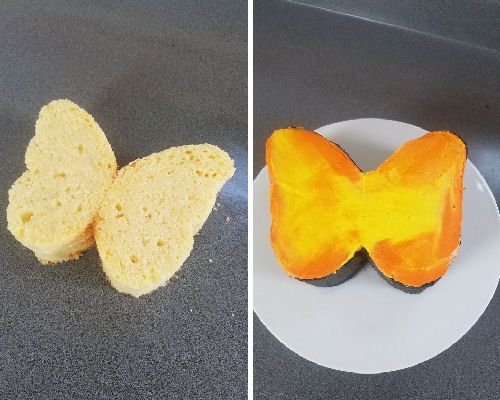 Butterfly Stencil and Step by Step Video with a narration.
Watch the video how to make this beautiful Buttercream Monarch Butterfly Cake. It's a perfect addition to any party.
More Butterfly Treats