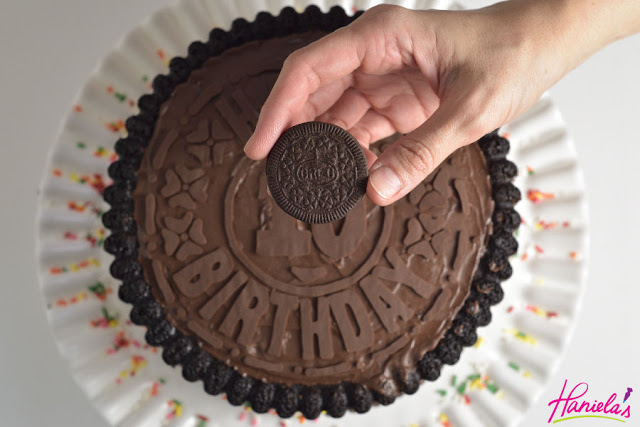 March 6th is National Oreo Day and to celebrate I decided to make Oreo Birthday Cake.
I made Chocolate Sponge cake layers and yummy cream cheese filling. To decorate the cake I decided to make chocolate transfer for the topper.
Chocolate Sponge Cake
cake pans
8 room temperature eggs
pinch of salt1 1/2 cup granulated sugar1 1/2 cup cake flour1/2 cup dutch cocoa powder2 1/2 tsp baking powder4tbl butter, melted and still hotBeat eggs with salt until foamy, gradually add sugar, beat for 15 minutes on medium high until doubled almost tripled in volume.Melt butter and hot butter stir into the cocoa powder, let cool.
Gradually add cooled cocoa mixture into the well beaten egg mixture. Mix until well combined, couple minutes.
Sift together flour and baking powder.
Gradually fold in flour into the cocoa egg mixture. Divide batter into prepared pans. Bake at 350F for about 30 minutes or until toothpick inserted in the center of the cake comes out clean.
Prepare Cake Pans : brush with butter or spray with non stick spray, dust with cocoa powder, shake the excess out over the sink.
Cake Filling
Cream Cheese Filling2 packages of soften cream cheese, let is sit at room temperature for 20 minutes1 1/2 cup powdered sugar, use more if desired1tsp vanilla extract1/4 cup whipping cream/ heavy cream1/2 cup rainbow jimmies sprinkles
Beat cream cheese until smooth, add powdered sugar, and beat until combined and creamy, add vanilla extract and gradually beat in whipping cream. Stir in rainbow jimmies sprinkles.
Oreo Cookie Filling
12 Oreo cookies, crushed
Chocolate Decoration
Ghirardelli Chocolate Wafers Template – belowParchment paper round Cake assembly
Place bottom cake layer on a place, spread a thin layer of filling onto the cake. Take crushed Oreo cookies and with the spoon spread them out to the sides, but avoid going all the way to the edge of the cake. Top it with another layer of filling. Smooth out the top. Put the top cake layer on and press it down gently, pushing the filling closer to the edges. Spread some melted Ghirardelli chocolate wafers on the top cake layer to even out the surface. Carefully pick up parchment with chocolate transfer, turn it upside down. Then position chocolate transfer onto the cake, press down gently and carefully peel off the parchment to reveal the happy birthday message.
Mirror image of Happy Birthday Topper
Pans sprayed with non stick spray and dusted with cocoa powder.
Chocolate topper, transfer is piped with melted chocolate wafers onto the parchment paper.
Position chocolate transfer onto the cake, gently press down and carefully peel off the parchment.
s