Slovak Lokshe were a staple in my grandmother's kitchen. Traditionally served with duck fat, these potato tortillas never miss an appearance at folk fairs, Christmas fairs. Growing up, I often helped making these. I was in charge of cooking and eating, of course. We loved them as kids  and I still make them quite often. (In fact, for real, I have a bowl of cooked potatoes in the fridge right now, as I'm planning to make them tonight)
Though as kids we'd  fill them with home made  plum butter and generously dusted them with ground poppy seed filling. Then you roll it up like a crepe. Another popular filling is garlic spread; my brother loves it.  It is quite delicious. In fact you can fill these with basically anything. Let your taste buds go wild.
All you need to make these are potatoes, flour and salt. That's it. The basic stuff, everyone probably has in their kitchen, all year long.
Slovak Lokshe (makes about 15 tortillas, medium size)
1kg(2lb) boiled old potatoes, peeled and finely grated
400grams(2 1/2 cups) flour
1tsbl salt
Wash potatoes, boil them in salted water. Add about 1tbl white vinegar to the water. Boil until fork tender but not overly soft.
Drain the liquid. Let potatoes cool. Cover and let rest overnight in the fridge.
Peel the potatoes. Grate them on a fine grater. Add salt to the flour and then add potatoes. Using your hands, knead until dough is formed.
Divide dough into 2 halves. From a log from one half, cut it up into even rounds.
Dust the surface with flour, press the cut sides into the flour to prevent sticking. Using a rolling pin roll it out to the size of your cast iron pan.
Cook on medium heat using cast iron pan. When air pockets form, puncture them with the fork. Cook about 4 minutes on each side.
Serve as desired. Filled with jam, sugar, different filing, chicken etc.
Can be stored unfilled, covered tightly in the fridge. Reheat in the microwave.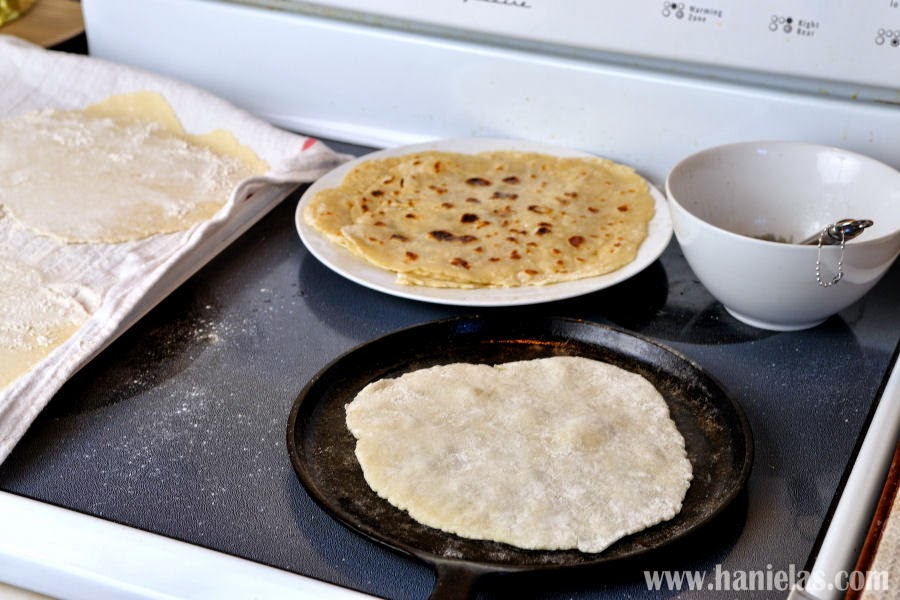 Cook Slovak Lokshe on a cast iron pan, no greasing
Learn how to make these in my video recipe tutorial
Served with plum butter and poppy seed filling