(My  Gingerbread Centerpiece is also published in the new book 1,000 Ideas for Decorating Cupcakes, Cookies & Cakes (1000 Series)
It's been  a long 4 days without a post, so today I have a little treat for you. I'm getting ahead of myself, but Christmas will be here before we know it.
I hope to start my Apple a Day Project next Monday. I'm still trying to rest as much as possible after my silly injury earlier this week, but don't worry I have some yummy apple desserts that I wanted to share with you.
I started making Gingerbread Centerpieces 2 years ago as gifts for our friends, they are so rewarding, though I wouldn't recommend eating one as they are pretty much hard as a rock, they make for a beautiful decoration during the holidays and they offer the smell bonus as they smell divine.
Excuse the photo quality as these were taken before I fell in love with food photography.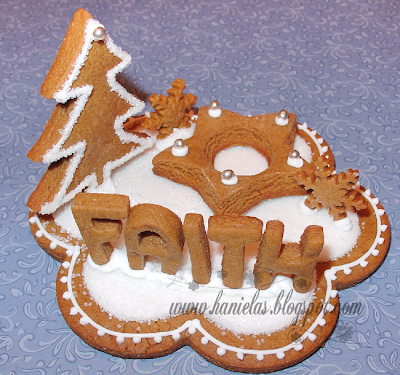 I hope this gallery gave you an idea for your Holiday Decor, it is a fun project for the kids as well as the whole family. Stay tuned as next week I will  show you how you can make a beautiful gingerbread centerpiece.